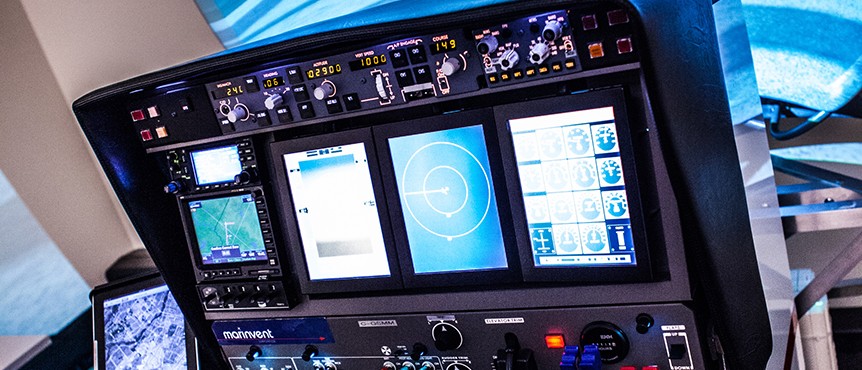 An integral step for any aircraft prior to entering service is the evaluation of its performance and safety. Whilst companies may pursue cost reduction, quality and safety are aspects that will never be compromised. Companies operating in the testing and maintenance and repair overhaul (MRO) spaces or offering technologies to enhance inspection and testing processes will therefore continue to be integral to aircraft manufacture and operation.
Inspections, testing and maintenance are becoming ever more sophisticated, particularly thanks to developments in simulation and predictive maintenance. Accuracy of inspections is now being increased through the introduction of robotics to reduce human error, whilst also increasing efficiency of the task at hand. Radix Inc., headquartered in Ontario and part of the Active Industrial Solutions (AIS) group, provides customized software which enables companies to visualize and collect data and provide traceability on employees' work activities to improve their task efficiency. "Radix's tools save clients time and improve process efficiency," highlighted Michael Muldoon, director of aerospace operations.
Two of Radix's main products are Tool Tracker and Inspect Tracker; the latter is an integrated, vision-based system for manual inspections. "For example, Inspect Tracker can reduce inspection time by 50% and results in more accurate data and ultimately improves the quality of the products our clients produce," commented Muldoon. "It also improves their own client communication through the data collected by our tools and shared with other systems. Whilst we develop our software to address as many challenges as possible, we also partner with our clients to provide custom solutions."
Radix is starting to utilize artificial intelligence (AI) and augmented reality technologies in its solutions and aims to grow its aerospace division from 10% to 25% of the company's business.
Meanwhile, simulated environments are at the fore of non-destructive testing (NDT). "Independent research shows that using an integrated simulation platform results in a faster development time (nine times faster) and reduced overall product costs (four times less expensive)," highlighted Paolo Colombo, global aerospace & defense industry director at ANSYS NTI, the global leader in engineering simulation software. "Overall, companies using an integrated simulation platform are 26% more likely to meet product cost targets. 20 years ago, simulation was only utilized by experts, but an increase in automation and a reduction in required training have made it more accessible."
Canada is home to ANSYS' development offices and center of expertise for aerodynamics, including de-icing and icing prevention simulation. Tools such as ANSYS Integrated Multiphysics (AIM) aim to empower companies to deploy simulation at the pre-design phase, which would lead to a significant decrease in development costs.
Optimizing in-service support
The uptake in health-monitoring technologies has been particularly impactful on increasing efficiency and reducing support costs by decreasing aircraft downtime and part replacement through an understanding of a part's defects and resulting lifetime. "We will be able to follow the complete life of a part–we digitalize the surface of the part so we know exactly where the potential defects are," outlined Jean-François Dupont, CEO at AV&R, a firm specializing in automation, vision and robotics. "Following a cycle, we will re-inspect the parts during the maintenance overhaul and compare the surfaces with the originals. This will allow us to monitor any deterioration and predict defects over the life of a part. In our extensive database, we will then be able to find where all these parts are involved and will be able to ground only the one plane with a potential defect. Normally, an engine is verified with all tests done on a computer with parts modelled after their initial design. All simulation parts are perfect. We will be able to simulate the real engine, recreating its real performance."
Greater utilization of Big Data will also drive more effective fleet management. For example, CEL Aerospace, a leader in aviation engine test cells and accessories test benches, has introduced new generation component stands for fuel control units and other engine accessories with a fully integrated Data Acquisition and Control System. "Now in service at P&W Poland and P&W Aeropower in West Palm Beach, our fuel control stands offer a testing environment with a higher level of accuracy and test parameter stability for a single shot data capture, so the quality of data is much higher and is well documented," explained Claude Lauzon, corporate vice president at CEL Aerospace. "The system converges to the DAS' data point and we can also offer an automated test routine from beginning to end. Again, it is all about our customer effectiveness and efficiency. This is being introduced in fuel nozzle test stands too."
In response to China's emergence as a force in engine R&D and maintenance, CEL is pushing its growth into the Asian market, starting with a Service and support offering out of Singapore in late 2017.
Attaining the required certification credentials can be extremely challenging and cost-heavy, particularly for SMEs. Furthermore, certifiers themselves are difficult to retain due to the cyclical nature of aircraft development. "Certification accounts for approximately 80% of the development costs of an aircraft and so represents the biggest risk to OEMs' bottom line," asserted Phil Cole, vice president, business development at Marinvent and Cert Center Canada. "A major challenge is that OEMs' delegates are only licensed by Transport Canada for their own OEM's products and are therefore unable to speedily transfer to another company."
The recently-established Cert Center Canada (3C) seeks to reduce the loss of knowledge by registering and housing certification staff under its own name.
Whilst a great deal of R&D expenditure is funneled into innovation on aircraft themselves, OEMs and aircraft operators rely heavily on the services of supporting industry segments to ensure optimal performance and maintenance in the longer-term. Technology developments leading to health monitoring and predictive maintenance will also secure cost savings further down the line through a reduction of unnecessary maintenance work.