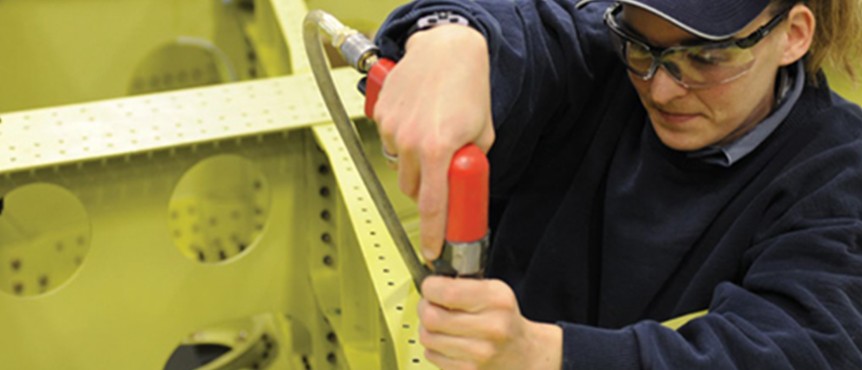 Alongside the Big Four OEMs and Tier 1 integrators, Québec's aerospace cluster is home to over 200 SMEs occupying distinct niches in manufacturing and sub-assembly and making a significant contribution to the sector's economic impact. The large number of SMEs reflects the entrepreneurial nature of the cluster, which has developed around a private market unlike many rival clusters around the world.
The industry is currently transitioning from a bullish market, where huge orders were secured for new aircraft in development, to a bearish one in which OEMs are focused on ramping up production at an unprecedented scale to meet order books, rather than on new aircraft sales. As a result, OEMs are experiencing pressures on their margins, translating into cost pressures across the entire supply chain. Concurrently, in recent years, OEMs have shown a clear preference for long-term contracts rolled out to fewer, often larger suppliers that can offer integrated services due to the efficiency gains that can be secured.
Largely because of these trends, Québec's aerospace supply chain is undergoing an evolution marked by consolidation within the Tier 1 and Tier 4 levels and more broadly amongst the region's SMEs. Many smaller companies lack the capacity and resources to truly meet demands for more integrated services and evermore cost-effective solutions but also lack the investment capital to address these areas. Unable to grow rapidly and significantly increase their international presence, these companies are likely to either be bought up or drop out of the market. Companies along the supply chain with sufficient capital are likely to make acquisitions to increase capacity to take on more customers or larger contracts or add capabilities to offer a more complete solution.
Consolidation within the industry is not a new theme but the trend is certainly increasing and having more pronounced effects. "The industry has talked about consolidation for 25 years but it has not happened before," commented Chris O'Neill, president and COO of Mecaer America, a division of the Italian supplier of integrated landing gear systems. "The demands of OEMs are becoming more sophisticated every year. This makes it harder for smaller suppliers to compete, which will cause further consolidation."
Commenting on the resulting reduction in available work, O'Neill continued: "Every momentous change in business allows for both opportunity and concern. We will find a way to exploit this opportunity but the impact on smaller companies producing manufactured parts will be more pronounced. They will either need to integrate or will be forced to drop out of the market."
Mecaer America is focusing on diversifying its client base utilizing Aéro Montréal's MACH initiative to reach this goal. The initiative aims to encourage companies, particularly SMEs, to develop more integrated services and better identify and serve the needs of OEMs and Tier 1 integrators.
SMEs' awareness of the need to better align themselves with the demands of their customers has driven numerous acquisitions since 2015. For example, PCM INNOVATION acquired TechFab in April 2016 to form a small integrator focused on tooling and Sinters America purchased DCM Group in December 2015 to form an integrated design and components manufacturing company. "The objective of the acquisition is an integral one and one that is difficult to accomplish: we needed a stronger base in order to win confidence from the OEMs and Tier 1 suppliers. We therefore decided we needed to exert more control over our supply chain than we had been so we chose to grow vertically and horizontally," stated Éric Ledoux, DCM Group's president and CEO.
With market conditions becoming more and more challenging, companies must tick all the boxes to get a seat at the table.
Identifying opportunity
In this environment, it is difficult for new players without a longstanding reputation to enter the market without a breakthrough technology. However, as OEMs increasingly look to start-ups and universities for new technologies, there are opportunities available for those offering something unique that offers measurable value or benefit. Collaboration is at the heart of many new development programs, furthering innovation through combined effort among companies that once saw collaboration as a competitive disadvantage. These models also provide a platform for smaller companies to work on contracts for which they might not otherwise have the resources.
Alongside industry-led projects run through the Consortium for Research and Innovation in Aerospace in Québec (CRIAQ), there are initiatives such as SAGE and now SA2GE, launched by Aéro Montréal to develop parts and systems in a more environmentally-friendly way. The initial program, launched in 2011, involved 27 SMEs, five universities and four R&D centers with contributions of C$150 million from the Québec government and private companies across five R&D projects. Phase two of the program, launched in 2016, is in fact led by the SME TeraXion.
After safety, the two themes at the center of innovation in commercial aviation are efficiency and cost reduction (without a tradeoff on quality). Indeed, whilst much of the industry is experiencing slower demand, it is the engineering services segment that has seen the most recent growth. Companies offering solutions to accelerate timelines, increase efficiency and reduce costs are generally in strong demand. Montréal-based AV&R which specializes in automation and robotics has an order backlog of over five years, for example.
Whilst the benefits of these technologies are clear, the upfront investment can be problematic for SMEs and does not present a strong business case if volumes are low. However, through initiatives like MACH FAB 4.0, Aéro Montréal and the Québec government are promoting SMEs' uptake of Industry 4.0 processes, such as increased automation, robotics, additive manufacturing and internet of things (IOT), to increase their competitiveness, particularly against international rivals. Equally, supporting companies in their export strategies means increased volumes, making automation and implementation of robotics more feasible.
By increasing operational and cost efficiency, SMEs will improve their competitiveness by better serving OEM's needs and narrowing the cost gap with lower-cost jurisdictions. Uptake of these processes is therefore essential for SMEs to retain their position. The support offered by Aéro Montréal and the Québec government further cements continued investment into this area and widespread implementation of these technologies. With this focus, Québec is set to sustain a more efficient and competitive SME network, although continued consolidation is still to be expected to address demand for integrated services.
Gaps in the market
Presently, the vast majority of Québec's approximately 15 integrators are foreign companies. These include Airbus subsidiary Stelia Aerospace, which supplies part of the fuselages for the Bombardier Global 7000 and 8000 business jets, and Belgium's Sonaca, which manufactures wing panels and stringers. However, there is a gap in the market for Tier 1 integrators that can provide services such as flight control systems, power and distribution electric systems, hydraulic systems, fuels systems and air management systems.
Given the market is heavily skewed towards SMEs, it would be a challenge for Québec's companies to fill this gap. "SMEs in Québec typically have revenues of between C$5 to 10 million, whilst OEMs are demanding to work with C$100 to C$200 million businesses," commented Guillermo Alonso, president of Montréal-based SME Alta Precision, an international leader in supplying build-to-print landing gear assemblies and sub-assemblies for the military and commercial aerospace markets.
A potential solution is the consortium model which has seen a great deal of uptake in European countries such as Italy and France. By collaborating and combining capabilities, companies are able to increase their resources to take on larger contracts and provide a more integrated service offering. However, this has proved unpopular in Québec. "Over the years, consortiums have been attempted but it causes concern among OEMs about who is ultimately accountable for the contract and is liable for any problems," explained Alonso. "Instead, OEMs want one owner of the different integrated services. Therefore, mergers and acquisitions should be a bigger priority."
Alta Precision doubled its facility's size following winning a long-term contract on Embraer's E2 program in 2014 and plans to double its sales in the next three to four years based on recently-signed contracts. Vertical integration is also a priority for Alta Precision, which aims to become an integrator and gain extra volume from OEMs.
There is a big opportunity for foreign investors to fill the gap in Québec's aerospace market for Tier 1 integrators. Indeed, this is already happening; Stelia North America, which focuses on the design, development and fabrication of advanced composites structures, was formed through the merger of France-based Airbus subsidiaries Sogerma, which owned Canada-based Composites Atlantic, and Aerolia.
The future of the supply chain
As supply chains become increasingly globalized and the world becomes smaller, Québec's aerospace sector will be marked by consolidation as companies strive not only to compete internationally but to stay in business. However, a key question going forward will be whether consolidation will achieve this goal. "Consolidation has gripped the industry and it will continue in the next few years. However, in ten or twenty years from now the industry will realize that some of these moves towards consolidation are not very efficient and therefore some mergers will be dismantled," commented Ledoux.
Effective management of Québec's supply chain will be important in maintaining the region's prominent position on the global stage. SMEs will only be able to survive if they have a unique product or are able to offer a complete solution. Without this differentiation, they will have to compete on price and will need to continue innovating in their processes. Today's climate requires business to be well-rounded in all areas and, as such, continued government support will be needed to help companies raise the bar and avoid off-shoring by the region's OEMs.