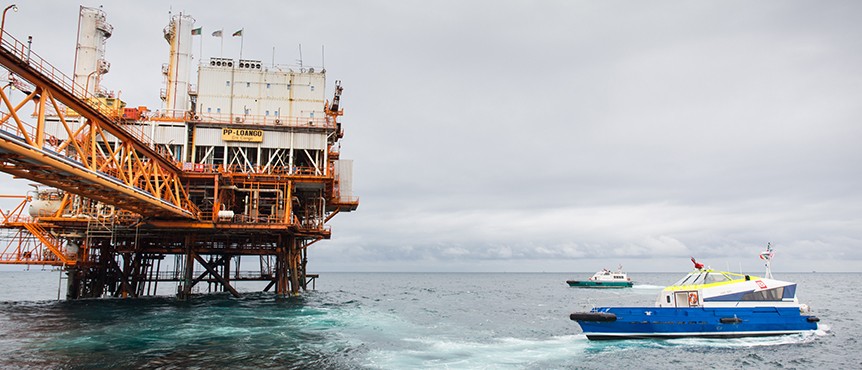 Image courtesy of Bourbon
While the full impact of COVID-19 is still being computed, one thing is sure; recovery won't be V-shaped. So, the earlier companies and government in Africa's oil industry begin to think of ways to avert future vulnerability of their fortunes and economies to global oil price wars and pandemics, the better for the continent.
The early stages of the global pandemic, which saw China reduce its demand for oil, already had Africa's economy reeling due to its level of exposure. It worsened when the price war kicked in. The exposure would later hit peak levels when very large crude carriers (VLCC) of African origin lined the high seas as producers offered monetary rewards just to offload their consignment and cut losses.
Whether the demand market is bearish, or supply disrupted by civil unrest, producers are unable to shut down wells given the difficulties and costs associated with restarting mature productions; in some cases the wells are lost altogether. Also, environmental damage when this occurs is inevitable.
While short term solutions are nowhere in sight, producing companies are encouraged to team up with host governments to develop massive storage facilities. Perhaps, this should be specified for every greenfield project, beyond the cost for the FPSO or FSO structures. For existing oil well facilities, there should be proposals to quickly build extra storage structures in record time as no one knows when the next pandemic or second wave of COVID-19 will strike.
The Energy Information Administration (EIA) pegged total U.S. working storage capacity at 653.4 million barrels, while global storage is estimated to be 6.7 billion barrels. Since the last oil price crash in 2014, China had been accelerating its crude imports for strategic and commercial storage from about 200 million barrels in 2014 to 900 million barrels in 2019. According to Wood Mackenzie, Chinese storage could reach 1.15 billion barrels in 2020. Regardless of the nameplate capacity, the maximum operational level for these storage devices is 80%.
Though tanker storage offers a brief alternative, it is expensive and there are not enough tankers available to solve the problem. Rates for VLCCs have skyrocketed above US$100,000 a day for a three-month charter.
Leveraging the varied trade protocols in Africa, partnerships could be established for proliferation of refineries and storage facilities across the continent. Storage within the region could rival China's projected 1.2 billion barrels. The experiment between Nigerian Content Development Monitoring Board (NCDMB) and Waltersmith from Nigeria, with their Equatorial Guinea counterpart offers some ray of hope. It's a sign of great things to come, particularly as it tests Africa's resolve for continued co-operation and local partnerships beyond some previous failed attempts.
Having seen the Nigerian duo complete 5,000 barrels first phase, out of a total 30,000 barrels per day capacity refinery, the nation is sure to have extra local supplies of Liquefied Petroleum Gas (LPG), gasoline, Aviation Turbine Kerosene (ATK), and diesel upon completion in May 2022. Meanwhile, the first phase is delivering naphtha, kerosene, diesel and Low Pour Fuel Oil and HPFO.
Should NCDMB and Waltersmith succeed in Equatorial Guinea, similar PPP and inter-governmental partnership models to enhance storage, build refineries and create proximity to refined products across Africa should be developed. Industry players should begin to leverage the provisions of trade agreements like the African Continental Free Trade Agreement (AfCFTA).
The continent has yet to maximize the benefits of its youthful population and vast land mass in spite of the creation of several sub-regional entities. Though SADC, ECOWAS and EAC exist, the intent of such arrangements haven't been fully utilized. The Protocol on Free Movement of Persons, Right to Residence and Right to Establishment, the Single African Air Transport Market (SAATM), among others have been passed and ratified in member countries but remain largely dormant.
Co-operation among African states to mutually develop the economies can shield the continent from future external threats and create easy access to energy. Intra-African trade should grow significantly beyond its present 17%, which is far below levels in Europe (69%), Asia (59%) and North America (31%).
According to modelling results by the Economic Commission for Africa (ECA), the continent's GDP of US$2.2 trillion or US$6.3 trillion in purchasing power parity terms will increase significantly if existing trade instruments and agreements are maximised. The model also predicted MNCs to both grow and diversify Africa's export base.
Respective governments should prioritise infrastructures that will address energy needs across Africa. We have seen Nigeria up its game on developing infrastructure: it approved a total budget of US$1.7 billion (combined for 2019 and 2020), a shift from paltry US$27.5 million approved in 2015.
Partnerships among ECOWAS countries have lead to the establishment of the West African Gas Pipeline Company which delivers 5 billion cubic meter per year of natural gas through a 678 km pipeline across Benin, Togo and Ghana. Arrangement for financing is also being concluded on the trans-Sahara Gas Pipeline: the 4,401 km pipeline, which is expected to deliver 30 billion cubic litres of natural gas per year, will run from Nigeria to Algeria via Niger, and from Algeria to Spain through the existing Trans-Mediterranean, Maghreb-Europe, Medgaz and Galsi pipelines.
The Uganda-Tanzania Crude Oil Pipeline (UTCOP), also known as East Africa Crude Oil Pipeline (EACOP), is another project between two African states. It runs from Hoima (Uganda) to Tanga (Tanzania), measuring 1,444km and ought to be completed in 2021.
As it is mandatory for IEA membership to hold oil stocks equivalent to at least 90 days of net oil imports, in order to avert disaster in the days of severe supply disruption, African Petroleum Producers Organisation (APPO) should have its own mandate for African producing states. Perhaps capacity to store 180 days of production would be ideal and come in handy in days of glut.