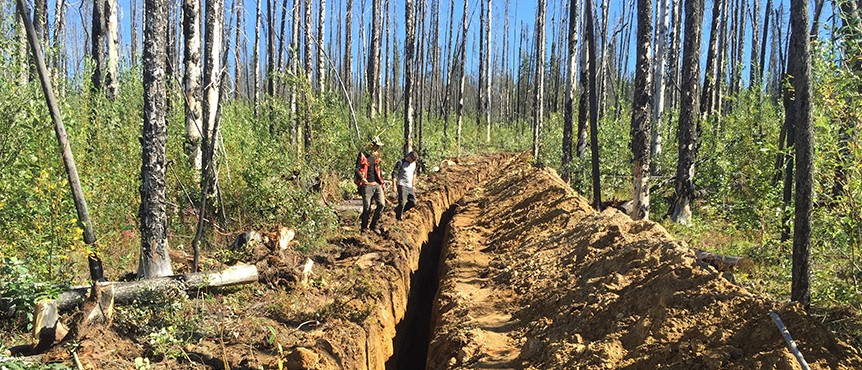 For decades, Yukon has failed to live up to its mining potential. This territory, roughly as large as Spain, currently hosts only one major operating mine – Capstone's Minto copper mine. Despite its widely acknowledged mineral wealth, companies have been reluctant to invest heavily in Yukon as they focused on overseas acquisitions during the boom years and cited high operational costs in this territory during the downturn.
However, recent developments suggest that a paradigm change is in the works. Vancouver-based giant Goldcorp acquired Kaminak Gold in July 2016 through a $500 million transaction. Its Coffee Gold project is a high-grade, heap leach project and Goldcorp is currently in the process of reviewing and optimizing Kaminak's feasibility study along with developing infrastructure. Another major with an established presence in Yukon is Kinross Gold, which acquired the White Gold property in 2010 with an inferred resource of 400,000 oz at its Golden Saddle zone. Last December, Agnico Eagle announced the acquisition of 19.3% of White Gold Corp, the largest landholder in the prolific White Gold district. More recently, Newmont became the latest major to enter this territory, announcing an agreement to spend $53 million to explore and develop Goldstrike Resources' Plateau property. This stampede of investments has raised prospects for the mining industry in Yukon, which may ultimately deliver the economic opportunities and development that the territory needs.
As majors start to get their hold on new projects, exploration activity has picked up and prospects for the upcoming years look promising. Goldcorp's drilling activities at the Supremiato target during the last quarter of 2016 yielded positive results with intercepts of 4.79 g/mt gold over 9.14 m from 114 m and 4.52 g/mt gold over 15.24 m from 30.5 m. Probable reserves at Coffee stand at 46 million mt grading 1.45 g/mt for 2.2 million oz gold with an expected mine life of 10 years. However, Goldcorp's plans in Yukon are more ambitious. In this regard, Brent Bergeron, executive vice president of corporate affairs and sustainability at Goldcorp, declared: "The feasibility study done by Kaminak established a 10 year mine life for Coffee; that just took into account a very small portion of the overall land package they had. We believe there is a lot more potential. We have also been very clear that we are not going to the Yukon just for the Coffee project. We are going to the Yukon to build a camp, which includes other properties in the area and this way we should extend our presence in this jurisdiction for more than 10 years… Once our operation is completed, the capacity that it is going to build should be used by other operations in the Yukon."
The White Gold District, located south of the historic mining town of Dawson, has experienced notable interest from prospectors and majors alike. Therefore, it was no surprise when Agnico Eagle decided to take a 19.3% stake at White Gold Corp., a newly created company with a talented exploration team led by the renowned prospector Shawn Ryan, credited for the discovery of Golden Saddle. White Gold Corp. holds the largest land package in the district and has ambitious plans for the future: "The company has 21 projects and our budget allows us to identify targets in all of them. We have a budget of $15 million to drill 200 holes a year over the next three years. We plan to re-evaluate the entire district and not to focus on one specific property. If we find something substantial we will return with a new program. The business plan of systematically evaluating every project is what attracted Agnico Eagle. There should be at least one deposit but there is a high probability of two or three deposits, based on our research," stated Shawn Ryan, chief technical advisor at White Gold Corp.
David Schmidt, CFO at White Gold Corp. is also bullish on the district's and Yukon's prospects, citing immense potential: "I am a huge believer in the White Gold district and the whole of Yukon. I think there will be more discoveries that are going to attract more companies. These developments are just the beginning for the next 30 years. At this point we are just scratching the surface."
Denver-based Newmont became the latest entry of a major to Yukon with the announcement of a $53 million dollar deal with Goldstrike Resources. Goldstrike has developed the Plateau project since 2010 with encouraging results after every drilling program over the years. This resulted in the Cordilleran Round Up and PDAC inviting Goldstrike to display its drilling highlights in their core shack in 2016, including an intersection of 13.25 g/mt gold over 17.5 m and 35.28 g/mt over 5.7 m true width. Interest soon followed and the deal with Newmont was finalized in March, thereby altering Goldstrike's plans for the property: "We plan to go into the field this summer with the largest exploration campaign in our history, comprising systematic exploration and drilling, and significantly ramping up the Plateau project… This agreement further demonstrates their [Newmont's] level of commitment to the Yukon and shows that Newmont recognized the unique opportunity to control an entire new district-scale gold system under one umbrella. They have an excellent global reputation, district scale ability, experience and ,of course, the funding required to explore and develop something of this scale and magnitude. Newmont has all the attributes needed for proving up economic reserves right through to development and production," declared William Chornobay, chief operating officer at Goldstrike Resources.
However, majors will not be the only drivers of exploration activity. Golden Predator envisages a major drilling program at its 3 Aces property this year. The company has achieved an impressive turnaround over the last year, going from a $3 million market cap company with virtually no exploration funds to a market capitalization of over $120 million and major exploration prospects. In order to achieve this, Golden Predator performed a bulk sample at the Ace of Spades zone of 750 mt last year. Using gravity feed the company was able to produce an 88 oz gold bar, using 10% of the sample. This subsequently attracted investors the likes of Eric Sprott, McEwen Mining and Power One. Janet Lee-Sheriff, CEO at Golden Predator, has outlined plans for the upcoming year, declaring: "We re-started drilling in February in the Spades zone, which will be followed by Hearts and Clubs. In the interim, we also expanded the property to the north, now comprising 275 square km. Our goal is to drill 20,000 m in 2017 and keep with the construction of roads and trenches. We believe we have an orgenic system that could be both underground and open pit."
Golden Predator has also enjoyed great cooperation from the Yukon government and the Kaska First Nation to take the project forward, thereby facilitating the development of necessary infrastructure to carry out exploration work. "We noticed a change in the government in the last two years and the process is now much more streamlined. In addition to the bridge permit, we received the Class 4 permit in November, which allows us to perform the necessary work to the point of production, such as 40 km of roads, more drilling, trenching, and bulk sampling of 10,000 mt," added Lee-Sheriff.
Meanwhile, Victoria Gold will devote further exploration funds at Olive-Shamrock, while simultaneously preparing for construction at its Eagle Gold project. "We acquired the Dublin Gulch property in 2009 and since then, have devoted most of our efforts on developing Eagle. Only in the last couple of years we have looked at the wider regional potential. We have now identified through geochemistry and geophysics about 15 km of mineralized trend with numerous targets. Two years ago we focused on an area called Olive-Shamrock, which now has a reserve of which some is included in the feasibility study. This year we will spend a further $6 million on exploration: $3 million at Olive-Shamrock and an additional $3 million doing preliminary exploration work at additional targets we have identified," declared John McConnell, president and CEO at Victoria Gold.
Victoria has attracted interest from renowned investors the likes of Tom Kaplan's Electrum Group and Sun Valley Gold, which together invested $24 million in what will be Yukon's next operating mine in 2018.
Project generators are certain about Yukon's golden future and have consolidated strong property portfolios during the downturn, foreseeing the arrival of majors and juniors over the coming years. Such is the case of Strategic Metals, a project generator company with one of the most diversified asset portfolios in this territory. "Strategic Metals has acquired over 100 projects in the Yukon as well as a few in British Columbia and the Northwest Territories. Our properties are particularly attractive because we own 100% of them and have no underlying NSRs. While we ultimately aim to sell our projects before the drilling phase, we do have the permitting in place to drill up to 3,000 holes or 500,000 m if we see the value in taking our projects further than initially intended. The longer we stayed in the Yukon during the downturn, the more we saw favorable projects opening up. We have begun to feel an uptick in 2017 and we have had a lot of interest in our properties, but we are waiting for the upswing to mature to get more value. Once we make a sale, there will be a domino effect. Success breeds success," declared Douglas Eaton, president and CEO at Strategic Metals.
With attention shifting north, B.C.-based juniors are starting to re-assess opportunities and re-start projects in Yukon. A case in point is Aben Resources, a Vancouver-based junior eager to kick-start exploration at its Justin property. "I was not planning to perform a lot of work on Justin but this has changed since there is renewed interest in Yukon and Justin is a great property. We drilled 12 holes and hit in 10 of them. We plan on doing geochemical and geophysics work and put it all together," declared Jim Pettit, president and CEO at Aben.
Yukon possesses noteworthy competitive advantages. Landholding costs amount to only $100 per claim annually, making the territory attractive for project generators and prospectors. First Nations disputes, a frequent source of concern for investors in neighboring British Columbia, are rare in Yukon. On the infrastructure front, both the federal and Yukon government have made emphasis on the construction of highways and roads across the territory, devoting roughly 27% of all infrastructure investments to these types of projects and enhancing Yukon's connectivity. These strengths, together with high-grade gold deposits scattered over tens of thousands of square kilometers, will continue to play to Yukon's advantage opening a new chapter in the territory's history that should be closely followed.