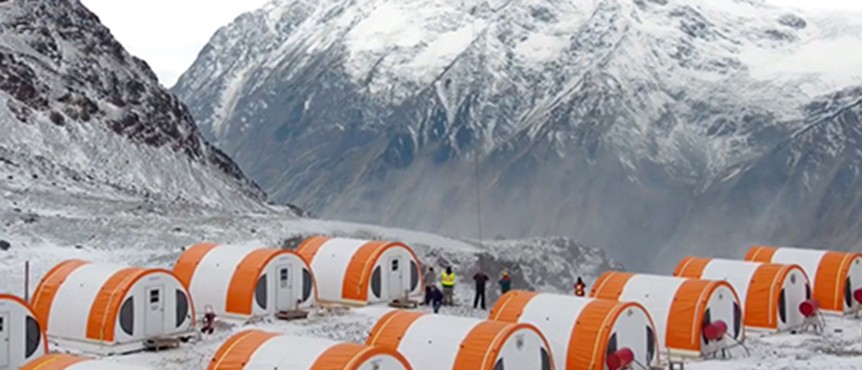 At first glance, Vancouver is one of the world's most aesthetic cities, surrounded by snow-capped mountains and with a unique geography featuring peninsulas and islands surrounded by the cold waters of the Pacific Ocean. Besides its remarkable natural beauty, this booming city houses the largest concentration of mineral exploration companies in the world, with Vancouver-based companies hosting the largest share of mineral exploration projects in North America. It is commonly said that whenever activity picks up along downtown Vancouver's tree-lined avenues, mining projects worldwide soon follow. Of the 976 mining companies listed in the TSX Venture exchange, mostly comprising juniors, over 60% are headquartered in British Columbia, with the vast majority based in Vancouver.
Canada's mining preeminence is particularly evident in Mexico, where companies have invested and operated since the country opened its doors to the global mining industry in the 1990's. Canada remains the largest foreign investor in Mexico's mining sector, with projects scattered across its territory, from the desert of Sonora to the tropical forests of Guerrero.
Vancouver-based Endeavour Silver serves as a landmark example of the fruitful relationship between Mexico and Canada in regards to mining investments. The company arrived in Mexico in 2003 because there was a flat 30% tax structure and the government was open to facilitate business for the sector. Although since then, a 7.5% royalty on profits has been introduced, the Mexican government is still hailed for its receptiveness and the ease of expediting permits. Endeavour Silver remained proactive throughout the bull market and emerged from the downturn with three development projects in its pipeline to fuel production growth over the next three years. The company announced a preliminary economic assessment for El Compas in March and is currently awaiting its explosives permit to break ground at the end of the second quarter. El Compas is a small but very high-grade project, with a low $10 million capex and a short six month development timeline. Moreover, in April the company released a pre-feasibility study on Terronera, located in the western state of Jalisco, where Endeavour expects to break the ground in the third quarter of 2017 and commence production at the end of 2018. Terronera has an initial 7.5 year mine life and has the potential to become the company's largest mine when operational. "We plan to build three new mines and grow our production by 50% over the next three years. The new mines will not only expand our production, they are also higher quality mines, so this should help drive operating costs down to the lowest quartile in the silver sector," declared Bradford Cooke, CEO at Endeavour Silver.
With a shared border of 5,525 miles, Canada and the United States are two closely linked economies and the mining industry clearly showcases this trend. Canadian companies are increasingly looking south and northwest of the border as they become mindful of investments in safe and stable jurisdictions such as the United States, one of the most advanced mining jurisdictions in the world but with great potential, particularly along underexplored regions in the Midwest and Alaska's vastness.
Trilogy Metals' Arctic property is already one of the highest-grade open pit copper projects in the world. Located in Alaska, it already holds a 43-101 resource, with 36 million mt of 6% copper. Trilogy plans a $7 million drilling program this summer and envisages a pre-feasibility study by the first quarter of 2018. Additionally, Trilogy entered into a 50/50 JV with South32 to develop Bornite, envisaging a $10 million investment per annum over the next three years. Bornite contains roughly 6 billion lb of copper at 1% open pit and 3% underground. Speaking about the company's strategy to maintain shareholder value, Rick Van Nieuwenhuyse, president and CEO at Trilogy, noted: "Trilogy Metals' strategy, in short, is to execute our plan. We will continue working toward our pre-feasibility study on Arctic and we will look forward to some exciting drilling results at Bornite later this year. Investors can look forward to a lot of news-flow from this year's activities."
In the mainland United States, companies are increasingly looking at assets in jurisdictions with a long tradition in mining, such as Nevada or South Dakota. One such company is Mineral Mountain Resources, which currently holds one of the most extensive gold districts in the country. Since 2012, Mineral Mountain focused on an area locally called the Rochford Gold District, centered about 26 km south of the renowned Homestake mine, which was continuously mined for 135 years. Over the years, the company consolidated a large contiguous land package and has since performed the first high-resolution airborne Mag-Em survey in the area. Remarkably, the company was able to consolidate the land package and existing data dating from the early 1900s during the worst period of the downturn. However, as market conditions have improved, Mineral Mountain is now poised to move forward with an aggressive exploration plan, comprising 20,000 meters drilling in 2017, divided equally between the Standby mine deposit and the South Cochrane trend. Based on initial exploration work, the company believes that the Rochford district hosts a Tier 1 gold system with more than one economically feasible deposit. Nelson Baker, president and CEO at Mineral Mountain, elaborated on the strengths of the project: "After Nevada, the Homestake Gold Trend is the second largest gold-producing area in the United States. Over the past year, we have been offered several opportunities to joint venture our 100% owned Rochford project, but we prefer to enhance the value of this project by drilling our most advanced Homestake-style target. For over a century, the global mining industry viewed the Homestake mine as a unique event. Our research and database compilation since 2012 in the Rochford district clearly dispels that theory. We believe we have five separate Homestake-style gold trends located within our present land package that could host large-scale deposits."
Following four years of a bleak mining environment, activity has notably picked up in North America. Vancouver-based companies remain regional leaders in regards to exploration and development, with world-class assets and remarkable expertise.