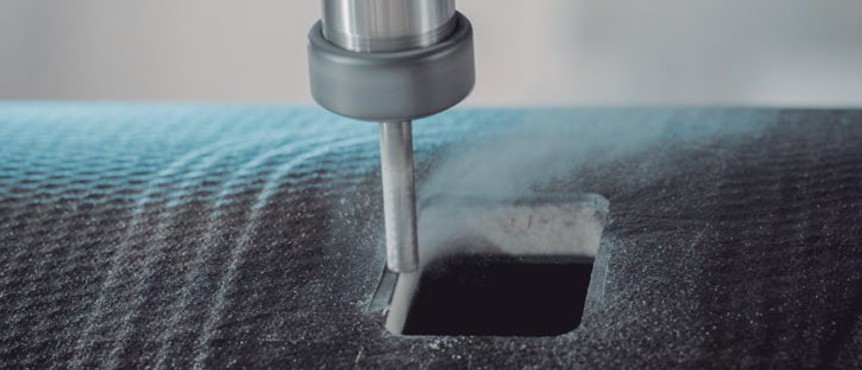 With global passenger travel growth over the last five years averaging 6.2%, and aircraft demand massively surpassing supply, the global aerospace industry is constantly searching for ways to increase production capacity. Many OEMs are adopting more digital and hyperconnected technologies into their manufacturing processes, globally dubbed 'Industry 4.0'.
The use of digital technology in aircraft manufacturing is not new, at least when it comes to OEMs. Airbus' utilization of the complex Dassault Systemes' 3D Experience software platform for the manufacturing of the A350 XWB series demonstrated the transformative potential that Industry 4.0 has for aircraft manufacturing, creating a single platform for design, simulation and manufacturing, where employees and suppliers can instantaneously collaborate with one another on digital simulations of the manufacturing process. Airbus' utilization of this software represented not only an adoption of Industry 4.0, but also one of its major pushes towards a consolidation of the aerospace supply chain. The software connected up to 4,000 people per day, with 85% of that number coming from their supply chain. One of the principal aims was to remedy a lack of communication that had previously plagued the aerospace supply chain that extended design time, included errors that drove up costs. This collaborative approach demonstrably provided positive results.
The OEM design and assembly process has thus become altogether more connected, and the success of this more collaborative approach is driving OEMs to encourage suppliers at all levels of the value chain to adopt a similarly collaborative spirit to their own individual operations.
Smaller companies (SMEs) must integrate this connectedness within their own operations, which brings a new set of challenges. SMEs face more hurdles than OEMs in incorporating Industry 4.0, because, while adopting new technologies may offer clear long-term benefits, it can be a costly process. Nowhere is this more apparent than in the Auvergne-Rhône-Alpes aerospace cluster, with its lack of primary companies and its abundance of SME players.
An abundance of SMEs producing niche products might be considered as a strength offering high-level innovation, but if fully incorporating Industry 4.0 proves too cost-prohibitive for them, they may also hinder the region's chances of achieving its aim of becoming one of the top five aerospace clusters in Europe.
So far, companies within the region are generally making positive steps towards incorporating Industry 4.0. The facilitators of this progress are primarily located within the region itself: a thriving market has emerged of companies geared towards assisting other SMEs to incorporate Industry 4.0 in an affordable and sustainable manner.
Digital twin and simulation technology: Trickling down to the SME space
While "digital twin" technology, which simulates manufacturing plants and is able to calculate the most efficient methods of production possible based on available resources, may once have been the reserve of OEMs and Tier One suppliers, it is becoming increasingly accessible to companies further down the value chain in Auvergne-Rhône-Alpes. Companies such as Inoprod have identified the specific needs of the SMEs in the region and developed ways of applying their technology to SME operations. Pascal Dubuis, CEO, outlined how his company's expertise in dynamic flow simulation technology, among other tools, can facilitate a level of operational analysis and forward-planning that would otherwise require months of observation and human mental labor: "In just a few minutes, we are able to simulate several months of production and thus predict how the plant will be operating and what its future performance will be. This is particularly useful at the moment with the production ramp-up in the aeronautics industry because we are able to calculate a company's capacity to meet demand and advise on where they should invest their resources in order to increase their capacity," he said.
Niche software solutions for companies further down the aerospace supply chain are also becoming popular. GO2Cam, a Lyon-based company, develops software that calculates the most optimal route for a cutting tool to take more quickly and accurately than a human operator can. "We know that suppliers in the aerospace industry are facing increasing pressure to reduce their costs and we offer a unique and cost-effective solution to help them do so," explained CEO Eric Gerval.
The company is mindful of the real need for a quick and easily quantifiable ROI that SMEs with limited budgets have: "Our customers can expect a very fast return on investment. Using the software results in production savings in two ways: firstly, we can typically reduce the production time of specific parts by 10% to 20%, with no changes to the machines or tools used. Secondly, we can dramatically reduce the frequency and cost of repairing and replacing cutting tools," he added.
The use of robotics and automated processes in manufacturing is also rapidly increasing in the region. Groupe Roux-Jourfier helps companies introduce "collaborative" robots that are capable of working closely alongside human operators to increase operational efficiency. "There has been a significant increase recently in companies requesting robotics to assist with welding processes. Three years ago, we had no aerospace customers in this area, but today they generate around 50% of RJ Industrie's revenue", disclosed Franck Kerrachi, mission leader at Groupe Roux-Jourfier.
Family companies: tradition versus the future
The incorporation of Industry 4.0 also brings less obvious benefits to companies within the Auvergne-Rhône-Alpes region, beyond a straightforward maximization of resource potential: it may offer a lifeline to small family companies committed to remaining in France to avoid outsourcing work to best-cost countries. As Yann Ginon, project manager at Kalistrut, said: "It is a challenge to be competitive when manufacturing in France because salaries and general operating costs are higher. We are reacting to this challenge by incorporating more of Industry 4.0 into our processes and we working on making our manufacturing more automatic."
While an awareness of the benefits of incorporating new technologies prevails in smaller companies, it is a strategy that is proving cost-prohibitive for some smaller family businesses in the region. These companies are choosing to take a more collaborative approach in order to avoid being left behind. This is demonstrated by MGB and Lathuille Hudry, two small family companies in Annecy that recently co-invested in shared additive manufacturing (3D printing) equipment. "Investment in new technology, such as 3D printing technology, which is around €1 million, can be cost-prohibitive so we prefer to share the risk by partnering. We are far stronger when we work together," explained Bertrand Duby, sales manager at MGB.
While more automated manufacturing will certainly bring costs down for smaller companies by reducing the need for human operators, for companies producing more complex parts, the need for high-skilled staff can never be entirely eliminated. A balance must be found between the automated and the human, with test-benching becoming predominantly automated and able to work 24 hours a day, and final assembly and quality and safety tests performed by human operators.
An alternative way forward?
While the majority of companies within the Auvergne-Rhône-Alpes region appear to be prioritizing the incorporation of Industry 4.0 in their strategies for the near future, acceptance of the benefits of such a system is not universal. Some industry leaders, such as Patrick Besnier, president at DBC, believe that incorporating Industry 4.0 is not necessarily the best way to move forward. "The incorporation of Industry 4.0 in and of itself is not a driving factor at DBC. Companies across the value chain are talking about it and focusing on it as a main goal, but we believe that upon examination, Industry 4.0 as a blanket term is misleading. Just because a piece of equipment might be classified as 'Industry 4.0' does not mean that it is going to translate into improved efficiency, a reduction in cost or an increase in production capacity," he explained.
Nevertheless, going forward it seems that disruptive technologies will be experimented and adopted as the region seeks to benchmark itself against its global competitors.