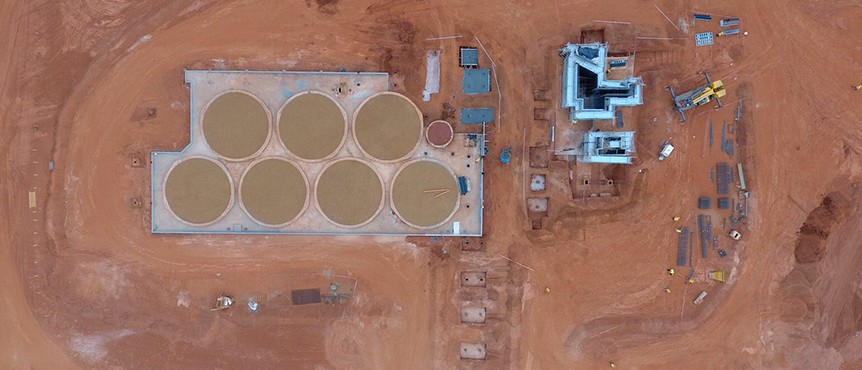 Image courtesy of Perseus Mining
As one of the most developed and forward-thinking countries, Australia and its industries have been embracing the fourth industrial revolution and the technologies that come with it, not least mining. For an industry that has been perceived as conservative and traditional in nature, Australia's mining sector has arguably taken the greatest leap of any industry to prepare and execute a forward-thinking digital roadmap. 'Mining 4.0' is now offering the opportunity for safer, more efficient and sustainable mining operations with new technologies that include robotics, autonomous systems and ground vehicles, 3D mapping and data analytics.
Of Australia's mining and technology hubs, Western Australia (WA) and Queensland have become the epicenters of the development and implementation of next-generation mining technologies. Western Australia's digital transformation has been led by a motivated state government, which has produced the world's first code of practice for safe mobile autonomous mining. Cutting-edge technologies are being developed and deployed by a number of the Perth-based iron ore majors, including Rio Tinto, Roy Hill, Fortescue Metals Group (FMG) and BHP. For example, in late November 2018, the Anglo-Australian major, Rio Tinto, approved a A$3.5 billion investment at its Koodaideri iron ore mine in the Pilbara region, which will be heavily automated and will feature robotic trains, advanced analytics and 3D reconstructions of the operations. Moreover, FMG's recently approved A$3.6 billion Iron Bridge Project will include automated haulage and drilling systems, and according to the WA Ministry of Petroleum and Mines, there are now more autonomous vehicles in WA than California, which is often deemed to be the innovation capital of the world.
Whilst WA is home to a majority of the country's mining operations where new technologies are being implemented, Queensland, more specifically Brisbane, has increasingly emerged as a hub for mining equipment, technology and services (METS) companies – with over 400 operating in Queensland – and their R&D efforts into new mining technologies. Key to the development of the state's METS sector is the collaborative and innovative approach taken by the academic and research institutions, which feeds the state's ecosystem with an abundance of tech startups. For example, the Queensland Centre for Advanced Technologies (QCAT) – Australia's largest integrated R&D precinct for the resources and associated advanced technology industries – has seen the development of a number of key R&D clusters focused around smart mining, autonomous systems and advanced minerals processing. Moreover, the Centre for Mining Equipment, Technology and Services Business Innovation (CMBI) – funded by Mining3, the Department of State Development Manufacturing, Infrastructure and Planning and the Queensland University of Technology – is identifying gaps between the technological potential in mining and its current realization. Meanwhile, the Cooperative Research Centre for Optimising Resource Extraction (CRC ORE), based in Pullenvale, Queensland, is developing and deploying innovative world-class technology across five key areas of the mining life cycle – define, separate, extract, control and operate.
Australian companies, leveraging Industry 4.0 technologies, have also looked to take their capabilities abroad. Perth-based Resolute Mining has built the world's first fully autonomous underground mine at the US$223 million Syama gold mine in Mali, which recently started production. METS companies have also looked to expand into other jurisdictions. For example, INX Software, who recently had Tanarra Capital, a private equity firm, take a 75% stake in the Perth-headquartered software company, is rolling out its workforce management system into new markets, including the Americas and Africa.
As an industry that is impacted by issues surrounding safety, reliability, efficiency and sustainability, the benefits of embracing new technologies cannot be understated. McKinsey & Company, a strategic consulting firm, has underlined that WA's mining industry could witness a A$80 billion increase in profits by 2025 - a 60% increase on current levels – by embracing new technologies whilst safe autonomous mining could halve the number of accidents in the state. With Queensland facilitating the creation of the next generation of mining technology and Western Australia being the center stage of its implementation, the digital transformation of Australia's mining sector is in full swing.