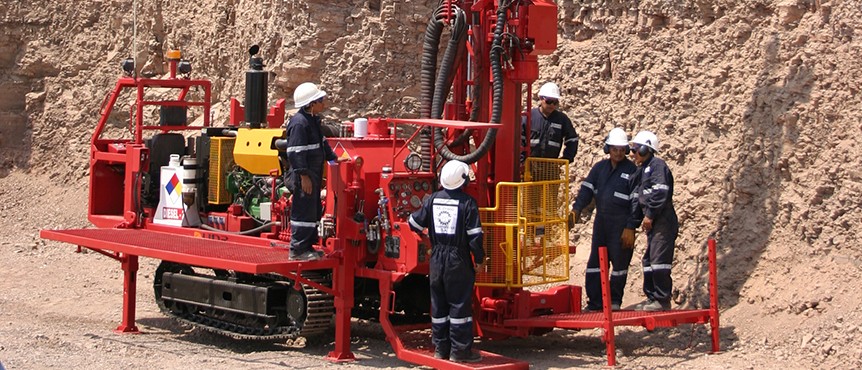 IMAGE: Courtesy of AK Drilling
Following the recovery of metal prices in 2017, financing for junior exploration companies has increased and with that, exploration in general. Proof of this was the positive vibe of this year's PDAC show, held in March, which attracted more than 25,000 delegates. During the event, PDAC President Glenn Mullan declared: "After experiencing several years of economic challenges, today the mineral exploration and mining industry is experiencing a renaissance and renewed sense of confidence."
Peru, the country that pioneered the country sponsorship within the Toronto gathering several years ago, sent once again a strong delegation of companies and government officials, led by Martín Vizcarra, vice-president and ambassador to Canada at the time of the event, who has suddenly become Peru's new head of state after the resignation of Pedro Pablo Kuczynski.
Before the cabinet changes, one of the Peru's Ministry of Energy and Mines' key objectives for 2018 was to promote new investment in exploration and increase Peru's share of the global exploration budget from 6% to 8% by 2021. A key observation from the number of junior exploration companies in Peru is the vast geographical scope they are active in. Spanning all corners, from the tip of Peru near Lake Titicaca, to near Huaraz in the Andean mountains, and the Sechura desert near the Ecuadorian border, exploration companies are seizing the opportunity to explore Peru's untapped mineral richness.
COPPER
As Peru continues to cement itself as the second largest producer of copper in the world, a number of exploration projects gather pace across the country. Regulus Resources continues to focus on its AntaKori copper project in Cajamarca, northern Peru, located immediately next to the Tantahuatay gold-silver mine owned by Coimolache, a joint venture of Southern Copper and Buenaventura. Coimolache and Regulus have actually signed an agreement to carry out collaborative exploration in the area, which will certainly benefit the advancement of the AntaKori project.
AntaKori has a 43-101 resource of 295 million mt at 0.48% copper, 0.36 g/mt of gold and a little more than 10 oz/mt of silver. Regulus' campaign for 2018 will be approximately 18,000 meters of drilling, and the company has already released the results of six holes. John Black, CEO of Regulus, said: "We have been very pleased with the results, particularly as the drilling was at the southern margin of the previously known mineralization. Although the grade was a little lower than the average, it represented a 400 meter extension to the previously drilled area and provides considerable growth to the project."
Regulus wants to use the current campaign to update the resource estimate, however John Black warned that it will take more time than that to realize AntaKori's full potential: "AntaKori is a very large project and we must be patient to fully capture the opportunity. Although it is difficult to predict what will happen with the price of gold, we do know that copper will be in shortage for the foreseeable future and demand will keep increasing. A benefit of higher metal prices is that more capital is available and this will allow us to move the project along more quickly."
Meanwhile, in the south of the country, Kaizen Discovery has continued to focus on their Pinaya project, located in between Arequipa and Puno. Pinaya, previously explored by AM Gold and Rokmaster Resources, sits in the same belt as Glencore's Tintaya deposit and presents typical skarn and porphyry copper-gold mineralization. After some delays created by the Peruvian government's consulta previa process (prior consultation with the local communities), Kaizen's drill program this year will have two primary components, according to Kaizen's president and CEO, Tom Peregoodoff: to extend the resource laterally and to explore the potential of some deeper areas. For this, the company will use Typhoon, a proprietary technology of HPX, Kaizen's major shareholder. "Typhoon enables the user to penetrate much deeper into the ground. This is especially important in areas where you have resistive cover. In the case of Pinaya, a primary focus of application of Typhoon is to identify and understand any significant depth potential", said Peregoodoff.
The company is also planning to drill one new target called Pedro 2000, which was identified through both existing geophysics and some ground mapping. The program has a total budget of US$5 million, jointly funded by Kaizen's partners, Itochu of Japan, who will be earning a 20% participation in the project. "We expect this drill campaign will lead both to a second phase of drilling and to an increase in the resource," said Peregoodoff.
Peru's dynamic junior sector and its positioning as the best upcoming destination for copper exploration has helped attract other companies in this space, including Camino Minerals, Pembrook Copper and Chakana Copper. Indeed, Chakana just started trading on the TSX-V end of January, and its main focus is the Soledad project located in Ancash. Interestingly enough, Chakana is not targeting yet another large open-pittable deposit at Soledad, but is focusing on defining the potential of its high-grade pipes instead. In the words of David Kelley, president and CEO of Chakana Copper: "The strategy of the previous operators was to find a porphyry deposit that is assumed to be related to the tourmaline breccia pipes. Our view is different. We think these high-grade breccia pipes can offer significant economic value because they are numerous, high-grade, vertically extensive from surface, and are relatively easy to explore."
According to Kelley, it should take Chakana two years to go through all the pipes, but this year they could have an initial resource estimate already. He added: "Because Soledad does not have a large footprint, it does not present the environmental and social impacts of a huge low-grade deposit that take years to drill out. It is a very compact project in a good mining area. We can move along quickly, which is very important in a cyclical industry like mining."
SILVER, ZINC AND LEAD
After winning its arbitration process with the Peruvian government regarding the Santa Ana project, Bear Creek Mining has continued advancing with Corani, a very large silver deposit with significant base metal content. Potentially moving into construction over the next year, and with expected production of 12 million ounces of silver annually during the first six years of operation, Corani is one of those 'company makers' that do not come in production very often in the industry.
Of course such a large project brings significant risk associated to it. Through recent reengineering, the company has reduced the estimated capex of the project to a US$585-million figure, which is still high for a junior company. Anthony Hawkshaw, president and CEO of Bear Creek, said that there is still space for optimization, in aspects such as treatment, processing and metallurgical recoveries: "There are areas to save money and initial engineering observations have identified possible capex reductions," he assured.
Bear Creek has recently updated its long-term pricing assumptions to US$18/oz silver and US$1.10/lb zinc. Under the company's economic studies, the payback at Corani would be three years, but with the current spot prices of zinc, it could be shorter than that. In terms of permitting, the company expects to receive its construction permit and complete the prior consultation process over the second quarter of 2018.
In the zinc space, Tinka Resources updated its NI 43-101 resource estimate for Ayawilca, its flagship project in the department of Pasco, central Peru, which provided a 130% increase in the zinc resource. The new resource consists of 42.7 million mt with 5.6 billion pounds of zinc content (2.5 million mt Zn) as well as some indium, silver and lead. In 2018, Tinka is set to complete a 15,000 meter drilling campaign and will target new areas, including Zone 3 and Chaucha, as well as an extension of Central, South and West Ayawilca. Graham Carman, president and CEO at Tinka Resources said: "This drilling campaign will aim to add more high-grade resources to our portfolio and further improve the economics of the project. In parallel, a detailed metallurgical study will occur in Q2 2018 and then we will complete our preliminary economic assessment (PEA) over the second half of the year."
Ayawilca also hosts a tin resource, which also increased in the latest 43-101 report of November 2017 for a total of 10.5 million mt containing 145 million lbs Sn. "The tin lies deeper so will probably not be mined from the start, yet we would like to include the tin in our upcoming PEA as the tin realization is very high in terms of grade. We will need to do more metallurgy and see what we can incorporate this year," Carman said.
Asked about a potential joint venture or an outright sale of the project to an established base metals miner, Carman replied: "Looking further into the future, we are planning to mine at Ayawilca ourselves. Initially, we will have to go through all the processes of de-risking the project but as we own 100% of it, we are in charge of our own destiny."
GOLD
With a number of juniors changing their strategy to also go into production, Lupaka have been focusing efforts on Invicta, a gold-copper polymetallic underground project. The company's plan is to start mine development, use a contract miner and then send the ore to a toll milling facility for processing, thereby generating cash flow for investors. Lupaka's financial position has recently improved with the sale of the Crucero project to GoldMining and the closing of a forward gold sales agreement providing US$7 million in funding for the development of Invicta. Will Ansley, CEO of Lupaka Gold, gave more details about the company's plans: "We intend to operate at an initial 350 mt/d. We have an initial mine plan which outlines a six-year mine life, utilizing the existing infrastructure and covering a height of 130 meters, with a further 150 metres above. By 2019, we will have another updated resource with an expanded concept of between 500 and 1,000 mt/d. Investing in our own plant on-site would allow us to double or triple production."
FERTILIZERS
Despite the poor forecast for global phosphate prices, the Sechura basin has become a hotbed for juniors due to its strategic location next to the ocean, its mineral richness that includes highly reactive phosphate rock, and a very large mine already in operation, initially developed by Vale and recently acquired by Mosaic.
One of the juniors in the area is Focus Ventures with the Bayovar 12 project. The company carried out recent beneficiation tests through Jacobs Engineering Group that showed a minimum of 30% P2O5 content in their rock. With these results, Focus Ventures has been able to sign MOUs with two phosphate rock merchants based in Switzerland, defining specific export destinations for the traditional phosphate fertilizer industry.
The shorter-term view for Focus, however, is different. Its president, Gordon Tainton, has been looking at different methods to add value to the Bayovar 12 product given the low global phosphate prices: "From the phosphate rock at Bayovar 12, we believe there could be a genuine opportunity to produce elemental phosphorus (P4). P4 is one of the main materials used to make the Roundup weed killer. We investigated the North American and European markets and found out that all P4 demand for North America, Eastern and Western Europe is covered by imports from China and North Vietnam," explained Tainton.
He added that a second added value for the product can be achieved by coating the phosphate rock with a special polymer, which will further enhance the nutrient release in the soil profile and crop.
Meanwhile GrowMax Resources' asset, the Bayovar property, is also located in the same region in northern Peru. The company's initial proposal was to develop a potassium chloride operation out of potash brine. Further studies have concluded that the asset was better suited to become a sulphate of potash (SOP) project. Furthermore, the company discovered approximately 500 million tonnes of fairly high-grade near-surface phosphate.
For this year, GrowMax is focused on generating cash-flow and has decided to invest its time and resources in the development of specialty fertilizer assets in Latin America. Stephen Keith, president and CEO of GrowMax, sees huge potential in the region with Peru's agricultural exports looking to double by 2021. The SOP project, however, needs to improve its numbers: "The initial results of the EPC study were not as good as we were predicting; the after-tax IRR was not so attractive. The capex was set at US$20 million for a 5,000 mt/y SOP operation. We are now optimizing the project with the view of taking a production decision during 2018, while we are in discussions with potential partners to develop or finance the project."
With respect to the phosphate deposit, Keith referred to it as an "unbelievable asset" with a great location on the coast, next to Mosaic's Miski Mayo operation. "However," Keith continued, "global phosphate prices have not been in our favor. I believe this will be a critical project for global phosphates but it would not be prudent to build it at present."
With the world's population increasing and the decreasing availability of arable land, it will probably be a question of time until supply and demand dynamics for phosphate push its price upwards. When that happens, Peru will be in a perfect position to further develop its resources in the Sechura basin.