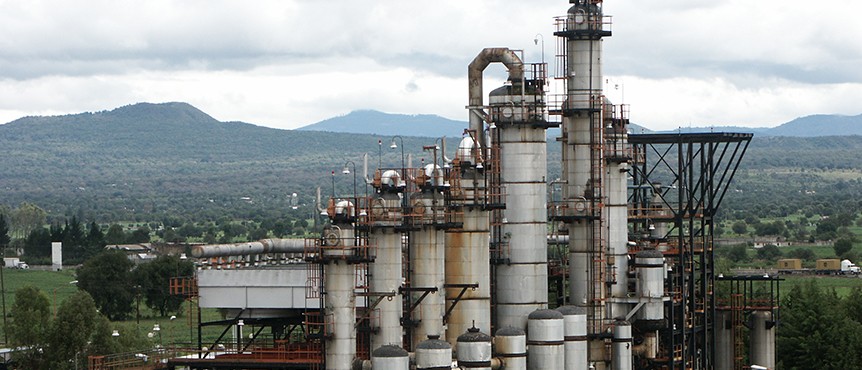 PHOTO: Courtesy of IDESA
Before the energy reform in 2013, the production of basic petrochemicals was reserved for the Mexican state through Pemex. Mexico's petrochemical production had been in decline for decades after Pemex decided to invest less in the industry after Mexico joined the General Agreement on Tariffs and Trade (GATT) in the early 1990s and then NAFTA in 1994, which meant its market became flooded with petrochemical products from abroad. This not only meant Pemex produced less basic petrochemicals but also that the private sector in Mexico invested less in downstream capacity.
Therefore, the move by Braskem Idesa in June 2016 to open a new 1.05 million mt/y integrated polyethylene complex in the state of Veracruz, the outcome of a US$5.2 billion investment, was a cathartic moment for the industry. The project, named Ethylene XXI, is the result of a joint-venture between Brazilian petrochemical producer Braskem, the largest petrochemical company in the Americas, and Grupo Idesa, one of Mexico's largest petrochemical companies. One of the primary reasons for the complex's construction was to help plug Mexico's gaping trade deficit in polyethylene, replacing US$1.5 to US$2 billion of polyethylene imports. The scale of the project is immense. As Stefan Lepecki, CEO, Braskem Idesa, puts it: "The project is the most significant project ever in Latin America and even in North America there has not been a project like it for twenty or thirty years."
So far, the results of Ethylene XXI have been positive. According to José Luis Uriegas, CEO of Grupo Idesa, the rate of operation was above 90% in 2017 and, on average, Braskem Idesa sells around 80,000 mt per month. As of November 2017, the company had already sold 1.2 million mt/y of polyethylene and it now commands a 43% market share of high and low density polyethylene in Mexico. There have been some hiccups as run rates fell slightly in Q3 and Q4 of 2017 due to supply issues with Pemex but Braskem Idesa is confident these issues will not cause problems going forward. "In the oil and gas market it is important to maintain a good level of investment to sustain production rates. This will therefore be important for Pemex going forward. We work very closely with Pemex and are very confident in their ability," remarked Lepecki.
There are hopes that the project will now spur more development further down the supply chain. "The investment is very important because it sets a precedent that, as an industry, we have not had for the last 25 years. It has precipitated the opening of new projects and generated the conditions for long-term contracts in the industry," commented Miguel Benedetto Alexanderson, general director, National Association of the Chemical Industry (ANIQ).
Still Not Enough
Despite the success of Braskem Idesa, Mexican chemical production has continued to decline in recent years. According to ANIQ, the volume of petrochemical production fell from around 9.67 million mt/y in 2015 to 8.47 mt/y in 2016, whilst imports grew by 7.8% and exports decreased by 11.9% in the same period. Regarding polyethylene, the commodity Braskem Idesa produces, high density polyethylene production decreased by 28% from 2015 to 2016 and low density polyethylene decreased by 12.6%. To help fill the gap, imports of polyethylene increased by almost 30% in the first ten months of 2017, compared with the same period in 2016.
Moreover, according to ANIQ, production declined from 2015 to 2016 for all major categories of petrochemicals, namely derivatives of methane, derivatives of ethane, aromatics and derivatives, propylene and derivatives, and ethylene. Interestingly, despite the scale of the Braskem Idesa project, private production of petrochemicals actually declined from 2.41 million mt/y to 2.34 million mt/y in the same period. Unsurprisingly, Mexico had a sizeable trade deficit in petrochemicals of US$5.4 billion in 2016, and trade with the United States accounted for US$3.45 of that total.
A large part of the problem lies in Pemex's decreasing production rates of basic petrochemicals and declining refining capacity. Its total production of basic petrochemicals declined a whopping 17.6% in 2016, and its ethylene production by almost 12% between 2013 and 2015 according to ANIQ. All of Mexico's crackers are ethane based but Pemex decided when the oil price was high to invest in oil rather than gas, meaning its production and refining capacity of gas has been severely limited. In fact, since 2010, Mexico's natural gas production has decreased from about 84 billion cubic feet per day (bcfpd) to 70 bcfpd in 2016. This is impacting Mexico's entire chemical supply chain. "Unfortunately Pemex's refineries are not operating efficiently and probably only at 30% capacity, so there is not enough propylene available. Indeed, Mexico imports 70% of its gasoline needs. Therefore, we stopped our partnership with Pemex and now import methyl methacrylate (MMA) from Brazil," said Abraham Klip Moshinsky, general director of Unigel Mexico, which used to produce MMA in Mexico.
Furthermore, companies that rely on ethylene oxide have suffered as a result of Pemex's reduced output, volumes of which fell by 8% from 2013 to 2015. "Some companies are operating at 50% capacity because there is not enough ethylene oxide," continued Moshinsky.
Downstream, speciality chemical producers are holding off investment due to the lack of certain petrochemicals products. Evonik, for example, lists availability of raw material as a constraint on expanding its manufacturing footprint in Mexico. "We will see what happens with the implementation of the energy reform but, at the moment, there are certain derivatives from petrochemicals of which there are not enough of or the supply is not consistent or competitive," said Martin Toscano, president of Evonik Industries de Mexico.
Nor has Mexico seriously sought to develop its shale gas potential, even though Mexico shares the Eagle Ford basin with Texas. "Mexico used to produce 3.5 million barrels per day (mbpd) of oil but now it is below 2 mbpd, and less gas is being produced. The country has not invested in shale gas even though it has the same shale formation as in Texas; the government needs to incentivize exploitation of this," lamented Moshinsky.
The Revolution Will be Here Shortly
With Pemex stumbling, it is in this context that the Peña Nieto administration launched the ambitious energy reform in 2013. Whilst the energy reform has great potential to improve Mexico's supply of feedstock, change will happen slowly. In the most significant auction since the reform, in January 2018, Royal Dutch Shell won nine of the 29 deepwater Gulf of Mexico blocks available. Malaysia's state oil firm Petronas also won six of the winning bids and Qatar Petroleum won five bids. Ironically, Shell produced more than 60% of Mexico's oil production before all foreign assets were expropriated in 1938 and Pemex was formed.
Previous auctions have also resulted in promises of US$61 billion from the winning companies. However, the government estimates US$600 billion is needed to bring Mexico back to record production levels reached in 2004, meaning Mexico is still a long way from this goal. According to Moshinsky: "Once there is more oil and gas production, private players will be willing to invest in refurbishment of refineries."
That will take a while to materialize, however, given that first production at the most recent auctioned blocs is not expected before 2028. Whilst some production will come sooner, it will not be enough to change the dynamics of domestically produced feedstock in Mexico.
To plug the void in refining capacity, in a symbolic move Pemex, for the first time, started importing ethane from abroad in January 2018. It imported 4,200 mt from Texas at spot prices and another shipment is due in February 2018, with analysts saying Pemex may opt for a medium to long term contract if things go well. This is especially important for Pemex given it has a 20 year supply contract to supply Braskem with ethane at 68,000 bpd and it also has to supply its two ethylene plants at the Cangrejera and Morelos complexes on the Gulf of Mexico. Until oil and gas production increases in Mexico, Pemex's spot imports are likely to continue.