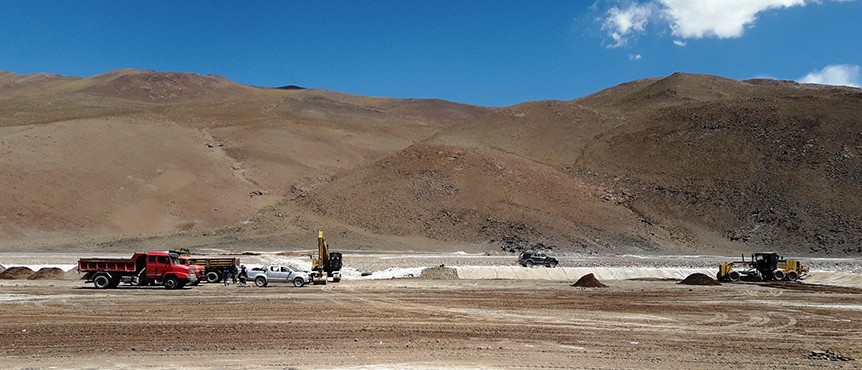 The worldwide buzz around renewable energy has engendered rising enthusiasm for lithium, uranium, graphite and cobalt in a WA mining community that is eager to join the race. The state has significant reserves of the resources and is abound with exciting projects both at home and abroad. Various trends in the tech and energy industries are fueling the intensified demand for cobalt, lithium, and graphite, which are all complementary in the production of lithium ion batteries. Matthew Painter, CEO of Perth-based Ardea Resources, believes the inevitability of electric cars will prove most significant in propelling demand. "Phones and computers both play a role, but the true driving force in the next few years will be the complete electrification of the auto industry over time. By 2021, pretty much every car maker has said they want a range of electrified vehicles — full electrics and various degrees of hybrids."
All stages of the value chain have felt the pull towards these commodities, not least testing and metallurgical services. Rick Murphy, CEO at Nagrom, said that 50% of the company's business now comes from lithium. Jon Landau, senior VP at Bureau Veritas, has also seen the need to meet a surge in demand for commodity-specific capabilities. "We have achieved this through developing methods to identify and extract lithium and by using our expertise in graphitic analysis to help with onsite services," he said.
Although no uranium mines are currently in production in the state, five projects have been granted the necessary environmental approvals to move forward with development once the market turns. Brian Reilly, managing director at Cameco, highlights the fact that Australia's potential as a producer of the resource has yet to be recognized. "As a nation, Australia hosts over 30% of economically recoverable global uranium resources, which is a significant competitive advantage, yet we supply only about 10% of global production," he said.
Roughly 50% of known worldwide cobalt reserves are located in the Democratic Republic of the Congo (DRC), which currently leads global production. Australia holds the second largest reserves of the resource, occurring mainly in lateritic nickel deposits. However, the nation has yet to fully realize its production potential, producing only around 4% of the global market in 2016. Ardea Resources owns the seventh largest cobalt deposit in the world and the largest located within a stable jurisdiction. Boasting 386,400 mt of contained cobalt metal, CEO Painter expects the company's Kalgoorlie nickel project deposit will prove invaluable in supporting the burgeoning demand for the resource, in no small part because of its location in WA. "Understanding the provenance of material is increasingly important given the ethical issues arising from sourcing cobalt in some underdeveloped countries," he said. "Amnesty International has highlighted some of the problems with child labor and unsafe work practices in the DRC. The only solutions are to clean up the supply lines or for people to source their material somewhere else."
The lithium battery is somewhat of a misnomer given that there are much larger quantities of several different minerals that comprise the end product. For example, a multiplier of six to 10 times more graphite is required in the production process. While there is no shortage of graphite in terms of global supply, the mineralogy and metallurgy of the resource are critical in determining for which market the resource is suitable. "Not all graphites are created equally," said Tom Revy, managing director at the newly formed BlackEarth Minerals. "It should not be treated as a single commodity, market, or development process," he added.
Three types of graphite occur in nature and each has distinctive markets for which it is best suited. The most rare of the three is vein, or lump graphite, which has a competitive edge because of its high quality in complement to low processing and recovery costs. However, it is almost exclusively mined in Sri Lanka. Amorphous graphite is a finer, particle-oriented variety and is used largely in refractory markets. China, which currently produces the largest proportion of the world's graphite, has increasingly geared itself towards amorphous production. Flake graphite demands a premium of nearly four times the price of amorphous graphite because of its suitability for the battery market. The demand for this high-grade product has driven several companies in the junior sector to search for flake graphite, which serves the broadest range of uses. Given the flood of interest in the resource, explorers such as BlackEarth are keen to secure attractive off-take agreements for their projects before the market saturates. "Through BlackEarth Mineral's Madagascar project, we are examining the potential to service the battery market because we will be able to leverage the networks that have already been established through Lithium Australia from an off-take perspective," said Revy.
The race for lithium has garnered particular interest in Australia because the nation is particularly well endowed with the resource. WA is home to the world's largest hard rock deposit of lithium at the Greenbushes project held by Talison Lithium Australia that has been in operation since 1985 and produces spodumene concentrate at a rate of 450,000 mt/y. In addition to exploration projects throughout the state, companies such as Lithium Australia have capitalized on the increasing demand for technology that will expedite the lithium processing supply chain. Currently, Chinese converters introduce a significant bottleneck in delivering the resource to end-users through domination of the necessary chemical conversion process. Lithium Australia's Sileach™ process has received grant money from both the WA and national governments to develop the capacity to process lithium on a commercial scale. "We need to bear in mind that at the moment Australia produces 40% of the world's lithium out of a single mine that uses very traditional technologies to process material," said Adrian Griffin, managing director at Lithium Australia.
While Australia's lithium-bearing minerals are predominantly obtained from hard rock sources, concentrates of the resource may also be derived from hydrothermal brines and evaporites. Ground water solutions can contain around 200 – 4,000 mg/l of dissolved lithium salts, and represent around 66% of the world's reserves. This type of deposit is considered an attractive exploration target because of lower capital requirements and faster production processes. These are generally found in vast, barren salt flats in regions like Chile, Argentina, and in the Himalayas of China. WA-based junior Argosy Minerals has taken advantage of the lower associated costs of brine lithium by capitalizing on exploration opportunities abroad. Wanting to take advantage of the huge demand for the commodity coming from Chinese battery manufacturing facilities, the company has fast-tracked its Rincon project in Argentina "Plants are being constructed that do not have adequate supply or off-take arrangements, however the support provided by the Chinese government for electrical vehicles all contribute to the sense that there is a tidal wave of interest in the sector," said Jerko Zuvela, managing director of the company.