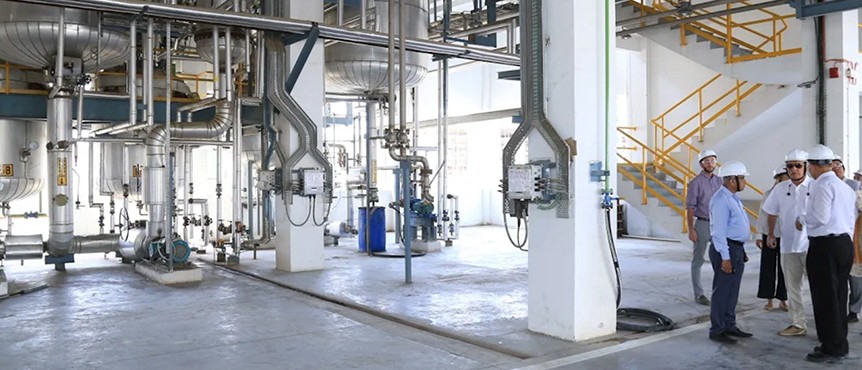 IMAGE: Courtesy of DAI ICHI
India has long been a country of potential. Promises of rapid development and prosperity have often been made, yet the delivery has taken its time. Recently, as part of the BRICS economies, India has stepped up its case of becoming a regional manufacturing hub and not only for commoditized products. India's GDP annual growth rate has been at least at 5.5% over the past 10 years and its economy is expected to grow by 7.3% in the next financial year (2018-2019) according to the World Bank. India's chemicals industry is also witnessing sizeable growth. Between 2010 and 2015, it posted a strong compound annual growth rate (CAGR) of 13% according to JM Financial Institutional Securities, reaching US$160 billion by 2017. It is expected to almost double to US$300 billion by 2025 according to the government. But what is contributing to the sector's increased fortunes?
Rising domestic demand meets a global supply shortage
The Indian chemical industry's rapid growth, which is forecasted to have a CAGR of 8% to 10% to 2025, can be put down to both domestic and international factors. Increasing development is leading to an insatiable demand in a number of end-user markets - including personal care, agrochemicals, food, feed and paints and coating - which is resulting in higher consumption of chemicals per capita.
A growing middle class and increasing urbanization are specifically contributing to this. According to the National Council of Applied Research, the Indian middle class could grow from 31 million households in 2008 to 148 million households by 2030, quadrupling consumption power. Moreover, India's urban population is expected to increase by 275 million by 2030.
Narendra Modi's 'Make in India' initiative, combined with stringent environmental regulations put in place in China, has also led to increased opportunities for India's manufacturers. Furthermore, a temporarily weakened rupee is contributing to rising export competitiveness and trade wars disrupting global dynamics are underlining India's credentials as an alternative partner to China. "The global turbulence, due to oil price movement and possible trade flow changes as a result of protectionist regimes across the world, may not impact India as adversely due to its inherently large domestic market strength and stable political regime via a vibrant democracy," said H. S. Karangle, director general of the Indian Chemical Council.
A helping hand from the government
With respect to governance, India is trying to strip bureaucratic complications, which have for so long hindered cross-state development. The new Goods and Services Tax (GST), which came into effect in June 2017, has been a key stepping stone unifying the country into a single market as it has replaced numerous federal and state taxes. Since its implementation, India has jumped 30 places in the World Bank's Ease of Doing Business Index (2018), albeit still at 100th. Despite variables such as 'Protecting Minority Investors' and 'Getting Electricity' being as high as 4th and 29th respectively, the country ranks as low as 164th for 'Enforcing Contracts' and 181st with respect to 'Dealing with Construction Permits'. More work clearly has to be done, but the country is moving in the right direction.
Vinay Patil, president of the Indian Specialty Chemical Manufacturers Association, highlighted that the implementation of GST will improve the working capabilities of India's manufacturers as it reduces the number of indirect taxes as well as the cost of doing business. According to M. P. Aggarwal, chairman of Sajjan India: "GST is a great idea which will greatly decrease costs including initial investment. These initiatives will make India's manufacturing and cost base more dynamic."
Repeating challenges lie ahead
Although clear action has been taken by both industry and government alike, old and new cracks continue to deter India's long-term prospects as a regional chemicals manufacturing powerhouse. A key hindrance remains the lack of feedstock options. The government had approved of four Petroleum, Chemical and Petrochemical Investment Regions (PCPIRs) in the states of Andhra Pradesh (Vishakhapatnam), Gujarat (Dahej), Odisha (Paradeep) and Tamil Nadu (Cuddalore and Naghapattinam), to improve efficiency and collaboration but finding an anchor tenant to provide a reliable flow of feedstock continues to be the key flaw. For now, the country can rely on its close geographical proximity to the Gulf for cheap feedstock. However, as prices remain volatile moving forward and domestic demand continues to increase, building feedstock capabilities will be a question of when, not if.
India's Chemicals and Petrochemicals Secretary P. Raghavendra Rao underlined the importance of implementing an integrated policy, highlighting that by 2025, the ethylene deficit would be at 7.5 million tonnes, the equivalent of five new crackers. Feedstock gives birth to each value chain in the chemicals industry and without it, India dependence and lack of security will remain.
The Next Step
India's chemicals sector is at an exciting period of development. The vast potential is without doubt, but questions need to be answered. In a country as vast and populated as India, creating a thriving collaborative ecosystem, such as Singapore's Jurong Island or Houston, will be challenging. However, if the PCPIRs can be supported by a strong infrastructure and reliable anchor tenant, a major hurdle will have been cleared. Development remains in its infancy but learning from other jurisdictions will be pivotal to quick and efficient progress. Sudhir Shenoy, CEO of Dow India, said: "It is still in an evolutionary process. We do not want to repeat mistakes, because it is an industry that has its challenges with respect to the environment, health and safety. We want to learn from other geographies that are perhaps ahead of us and learn from their mistakes," said Shenoy.