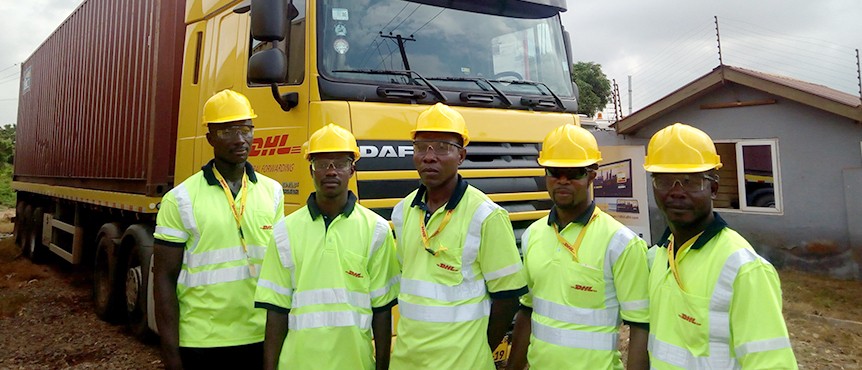 Image courtesy of DHL
At the 10th WaCA Mining Summit & Expo in Ghana, Mr. Kwaku Asoma-Cheremeh, the Minister for Lands and Natural Resources, urged mining companies and service providers to adopt appropriate technology to improve the performance of the sector, emphasizing how innovation will optimize operations and promote sustainable development for host communities and the country at large.
"Currently, most of the mining in Ghana is on surface, and we are only now starting to transition to underground mining," said Bashir Amed, VP of production and development at Asante Gold. "Compared to a country such as South Africa, Ghana still has a long future in mining. I do believe that mining will become more challenging compared to what we are used to, but the technologies to mine underground efficiently are already available. Ghana still holds significant mining opportunity, and there are a lot of areas that have not yet been explored."
A handful of mines, such as Newmont's Subika mine and AngloGold Ashanti's Obuasi mine, have already gone underground and mechanized part of their operations. However, mining innovation is driven primarily by safety concerns in deep-level operations, and, with some 70% of Ghana's operations comprised of open-pit mining, there has not been a lot of incentive to innovate. Thus, it is easy to imagine a scenario in which innovation is not perceived as a priority until the majority of surface reserves are exhausted. This would likely be a mistake; the short-term benefits of modernization include increased safety and, in some cases, higher profit margins. But Ghana should look beyond the upcoming decade and instead consider the long-term benefits of establishing itself as a hub for innovation. Firstly, early-stage adoption of new technology will facilitate large-scale remodeling of mines in the future. The problem in South Africa is not the unavailability of technology but that the mines' infrastructure often does not allow for the implementation of innovative solutions. Secondly, a more pressing future need for innovation will raise the issue of job losses as multiple mines mechanize and automate concurrently. A 2019 study published in Resources Policy assessed the preparedness of mine stakeholders in Ghana for the adoption of automated mining systems (AMS). The study found that respondents generally had knowledge of the technologies but expressed unwillingness to accept AMS into Ghanaian mines due to fear of increased unemployment. It was also revealed that 48% of undergraduate and 75% of postgraduate mining courses in Ghana were focused on outdated technologies.
Lastly, Ghana has long held the position as the region's hub for knowledge and expats from Ghana are hired as operators and managers all over the continent.
"In my opinion, Ghana is still the country with the most expertise and experience as well as a conducive environment for any investor," said Enoch Kusi-Yeboah, general manager of Metso Minerals, which provides equipment and services for the sustainable processing and flow of natural resources. "Other countries in Africa, such as Senegal and Côte d'Ivoire, are significantly developing expertise within the mining industry, but they are not there yet as they look up to Ghana in their quest to build a sustainable industry."
With Ghana as a blueprint, neighboring countries such as Senegal, Burkina Faso and Cote d'Ivoire are rapidly advancing their mining skills. As these competitors offer more competitive taxation regimes, it is crucial for Ghana to retain its reputation as a source of expertise in West Africa.
Thus, an increasingly integrated mining cycle should be accompanied by increased innovation in mines, refineries, smelters and exploration ventures. Ghanaian-owned Asante Gold Corporation sets an example with its green-gold Kubi project as it plans to implement the untested technique, Sustainable Mining by Drilling (SMD), with potential to reduce the extraction costs by 50% compared to conventional mining methods.
"The new SMD mining technique is a two-stage drilling method that enables direct mining of narrow deposits," Amed said. "The SMD method is being developed and commercialized by Anaconda Mining in collaboration with Memorial University of Newfoundland. The proposed SMD method has apparent huge advantages over conventional narrow underground mining techniques and appears well suited to the +5 g/mt Kubi project mineralization."