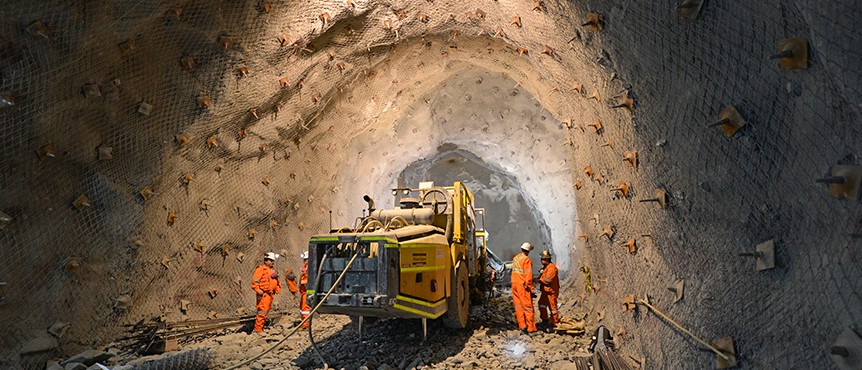 Image courtesy of DSI Underground
Take a flight to the north of Chile and, as the plane descends, you may notice one of the many deep holes that dot the landscape. Of the top 20 highest producing copper mines globally, seven are located in Chile: Escondida, Collahuasi, El Teniente, Los Bronces, Los Pelambres, Chuquicamata, Radomiro Tomic are all stars in the global mining constellation. Maintaining high production from these large mines, along with additional new production, is essential as the world transitions to a new energy economy. Simply put, the green economy is far more metal intensive than the fossil fuel economy. So long as demand continues to rise for electric vehicles and solar and wind energy, demand for copper will rise synchronously.
Wind and solar energy requires three to 15 times as much copper per unit of output as fossil fuel generation, according to the Financial Times. A report from Deutsche Bank expects the global electric vehicle market to grow 22% annually to 2030, led by China's 25% market growth. Estimates are that copper demand for electric vehicles, which was 0.9% of the global total in 2017, will rise to 8.2% of total copper demand in 2030. Given these dynamics, it is increasingly important that Chile continues to invest and innovate in order to offset production declines.
Although Chile is considered a mature mining jurisdiction, Timothy Beale, CEO of Revelo Resources, a prospect generator with a portfolio of copper and gold-silver projects focused in Chile, described the quality of the country's mining assets: "World class means long life of mine and scalability of production, and Chile has several truly world class mines. These huge mining districts in Chile will all be mining for decades into the future."
A prolonged period of high production is imperative, because copper mining plays an instrumental role in the development of the country. Consejo Minero data shows copper accounts for more than 90% of the country's mining exports, has been the economic sector with the highest contribution to fiscal revenue and has contributed 12.1% of GDP over the last decade. There are efforts to diversify the Chilean economy and grow exports in other areas, but it is clear that copper will continue to play an outsized role in its contribution to Chile's overall progress. It will also be a critical part of funding a new wave of social spending into the future.
Codelco
Before the protests and riots began in October 2019, Codelco was already facing the difficult task of having to invest billions just to maintain production levels and keep costs from rising. Piñera's administration announced US$5.5 billion of additional government spending in December 2019 and the state owned miner will be expected to help fund a larger welfare system in the country. The company can also anticipate a much more tightfisted response from the state in its allocation of funds to meet Codelco's financing needs.
On the spending side, Codelco is now looking to shrink its project budget through 2028 by US$8 billion or 20%. According to the companies Q3 2019 reporting, there are no plans to suspend any planned projects. At the same time, the company is looking to generate an additional US$1 billion in gross earnings from 2021 onward. According to CEO Octavio Araneda, Codelco is making a "great effort" to help generate the cash Chile needs to address social demands. To achieve the capex savings Codelco will simplify project design and reinforce operations maintenance and supply. "Codelco's future depends on finishing structural projects on time and at lower costs. Without them, our production will fall significantly," Araneda said.
Fortunately for Codelco, the company owns a portfolio of some of the most prodigious copper producing assets in the world.
Chuquicamata has been in operation for over 100 years and is now entering into a new phase underground. Codelco reported that, although the ramp up period of the underground mine is projected to take seven years to reach 140,000 mt/d, work to maximize process efficiency aims to shorten this period to five years (2024).
El Teniente produced 460,000 mt of copper in 2019 and by the end of last year had completed 54% of development on its New Mine Level work. The plan is to boost production at the mine to more than 500,000 mt/y by 2025. This ramp up in output would place the mine as a top five producer globally.
At Radomiro Tomic, a mine producing 310,000 mt/y of copper, Codelco filed an updated environmental impact assessment (EIA) for an US$882mn, mine life extension plan in Antofagasta region.
Overall, 2019 was a difficult transitional year for the company as it struggled to boost production and earnings. The world's largest copper producer had 1.12 million mt of copper output from January to September, which represented a fall of 6.7% in relation to the same period of the previous year. Company reports also showed a drop of 57% in pre-tax earnings year on year. Driving these results were February rains, a 14-day strike at Chuquicamata, lower head grades and lower levels of treatment.
Although this past year's performance was below company expectations, there is no denying the historical impact Codelco has had on the pace of development in Chile. For almost half a century, it has provided a reliable stream of revenue to the country. Moving toward the future: "The hope is to transform ourselves in order to continue contributing to the progress of Chile for at least 50 years more," Araneda said.
Majors
In 2018 Chile reached record levels of copper production, with 5.831 million mt. The industry was able to achieve this because of consistent investments made in years prior. In order for the country to continue its status as a leading producer in the future, investments must resume.
Some of the biggest global players operating in Chile are Anglo American (Collahuasi 44% , Los Bronces 50.1%), BHP (Escondida 57.5%, Spence), Teck (Quebrada Blanca, Carmen de Andacollo) Antofagasta Minerals (Los Pelambres 60%, Centinela 70% ), Rio Tinto (Escondida 30%), Glencore (Collahuasi 44%), Lundin (Candelaria) and Freeport McMoRan (El Abra 51%).
According to Joaquín Villarino, president of Consejo Minero: "Mining production in Chile grew considerably until ten years ago and then stabilized at just below 6 million mt/y of copper, which equates to about 27% of the world's copper, making it the largest producer in the world. The industry has the capacity to produce that amount of copper for at least 30 more years."
The three largest mines owned by private companies in Chile are Escondida, Collahuasi and Los Bronces.
At Escondida, the highest producing copper mine in the world, 2019 results came up short of projections. Copper production at Escondida in FY 2019 decreased by 6% to 1.135 million mt, as a consequence of a 12% decline in copper grades. Revenue from Escondida also fell by US$1.5 billion to US$6.9 billion overall for the year. According to BHP's end of fiscal year 2019 (Australian) conference call on June 30th, it is believed that Escondida will continue to be a very good cash returner for the next decade despite the down year.
Collahuasi, majority owned by Anglo American and Glencore, is a copper mine located in northern Chile. The mine produced 565,000 mt of copper in 2019. Meanwhile, at Anglo American's Los Bronces yielded 389,000 mt Cu.
A successful producer through 2019 in Chile was Antofagasta Minerals. The company's copper production reached 770,000 mt, a 6% increase year-on-year on continued higher throughput and grades. Building off the company's success, the board of directors approved a US$1.3 billion expansion of the Los Pelambres copper mine in November of 2018. With the expansion the company will be able to increase production from the mine by around 60,000 t/y of copper over the first 15 years of operation. The project will involve the construction of a desalination plant and water pipeline. Antofagasta is targeting production startup at Los Pelambres in the second half of 2021, although in April 2020 the expansion project was put temporarily on hold due to COVID-19.
The other big project in Chile's copper investment pipeline is Teck's QB2. The company is reliant on the project to transform its copper business and as a result, has committed US$4.7 billion toward its development. One of the strongest characteristics of the project is that it possesses a strip ratio of less than 1:1 and has significant expansion potential. In relation, Escondida and Collahuasi both have strip ratios of over 2.5:1. Therefore, QB2's cost of production will likely be lower.
Construction is expected to be completed in the fourth quarter of 2021, with ramp-up to full production during 2022. The project is estimated to produce 316,000 mt/y of copper during its first five years of operation, making it one of the world's largest undeveloped copper resources.
Mid Tier Mining
Although over 90% of Chile's output comes from large mines, the country has several promising mid size mines in development. Mantos Copper has its MantoVerde and Mantos Blancos projects, Pucobre is developing El Espino and Capstone Mining is looking to begin construction on its Santo Domingo project.
According to Tomás Buttazzoni, general manager of Technosteel: "There are two trends driving the mining market in Chile today. One is big mining sites that are expanding and the other is new mid size projects. Mid-size companies have been much more efficient in the use of funds because they have exponentially less cash available for investment."
Capstone mining's Santo Domingo is now shovel-ready with all building permits having been obtained. The deposit has a projected mine life of 17.9 years and IRR of 21.8% after tax. The projected cost of development is US$1.7 billion.
In 2019, Mantos Copper secured US$250 million to fund the expansion of the sulphides concentrator at its Mantos Blancos operation, which will extend the life of the open-pit mine until 2035 and reduce costs.
For Pucobre, its El Espino mine has an estimated investment of US $624 million and its annual production is projected to be 42,000 mt of fine copper and 20,000 oz of gold. Pucobre plans to enter into operation at El Espino in 2022 and this will double the company's production capacity.