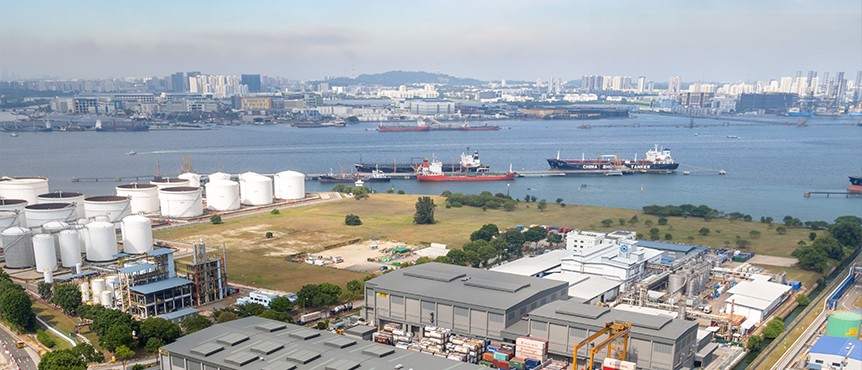 IMAGE: Courtesy of Bertschi
Singapore's integrated and connected logistics system has long been the city-state's backbone in its transformation from a low-income country to one of the world's wealthiest. Despite being a small local market, the island nation has developed its infrastructure to serve every part of the international logistics chain. Its status is now mostly undisputed. The city-state has ranked as Asia's top logistics hub for 10 years and came 5th in the most recent Logistics Performance Index global rankings by the World Bank. Moreover, Singapore is the world's second busiest port in terms of total shipping tonnage as well as home to the top-rated international airport – Changi Airport - for six years straight (World Airport Awards). In 2017, Menon named Singapore as the leading maritime capital in the world, ranking highest in a number of categories including shipping, ports and logistics as well as attractiveness and competitiveness.
Nevertheless, Singapore is showing no signs of slowing down. The Tuas mega port, which began construction in 2016, is set to have a capacity of 65 million twenty-foot equivalent units (TEU) - more than the combined 50 million TEU capacity of the current city terminals. Not only will it be the largest container terminal globally but also the single largest fully-automated terminal. This is all in line with the government's industry transformation programme, which aims to cement Singapore's future as an innovative and forward-thinking logistics hub. A separate road map for logistics is set to add US$8.3 billion in value to the sector and create 2,000 jobs by 2020 (Ministry for Trade and Industry). "We are excited for the development of the new port, which will further underline Singapore's connectivity to the world and its strategic regional dominance in the field of chemicals," said Lieven Vander Elstraeten, CEO, Bertschi Singapore.
Yang Kee, the largest home-grown logistics provider, is set to benefit from the construction of the mega port. With two facilities currently operating in Singapore at Jurong Pier and Tuas South, the company is set to open a third logistics facility later this year. "Yang Kee's integrated logistics hub at Tuas South Link was conceptualized and built in line with the nation's Industry Transformation Map for the logistics sector to continue securing Singapore's position as a globally leading logistics hub that is underpinned by operational excellence, innovation and a strong Singaporean core. Strategically located two minutes from the future Tuas Mega Port, it will be a six-story ramp up warehouse with a total floor area of 66,000 sqm, and ideal for Regional Distribution Centre (RDC) operations," said Jason Goh, CEO Asia, Yang Kee Logistics.
With Singapore continuing to strengthen its integrative network as well as leveraging on regional growth, the city-state's logistics firms are strengthening their hands. Bertschi Singapore has doubled its storage capacity with a second warehouse completed on Jurong Island in January 2018: the infrastructure has been built to accommodate dangerous goods storage. Following a downturn in ISO tanks due to overcapacity, both Bertschi and Suttons Group have recently begun expanding their ISO tank capacity to meet growing regional and global demands. Bertschi increased their fleet by 3,000 in 2017, purposely making the investment when steel prices were low. "Last year we made an investment of 800 ISO tanks and we have just placed an order for an additional 1000 ISO tanks. There is an ongoing program to expand and upgrade our global fleet," said Jochen Krapp, regional director of Southeast Asia, Suttons Group.
Distributors are also poised to benefit from increasing regional demand, utilizing Singapore as a base to serve the region. Nicholas Lim, managing director at Unilite, has seen his MNC customers become more upbeat as demand has slowly increased. "Improvements in the economy have been led by regional and global demand. Local demand is not reflecting this confidence as of yet, although 2018 will see an overall improvement," said Lim.
Henri Nejade, CEO and president of Asia at Brenntag, is seeing rapid growth across Asia-Pacific. This growth is not only increasing Brenntag's activity in the region but adding to its service offerings. "There is a real demand in the food and beverage space driven by changes in consumption behavior. Upward trends include the pharmaceutical, personal care, coatings, lubricants and blending industries: these are spaces in which we provide services to our customers and our suppliers. There is added regulatory demand from our customers and suppliers. One place where we see a good opportunity is supporting SMEs, as we can offer safety and technical services," said Nejade.