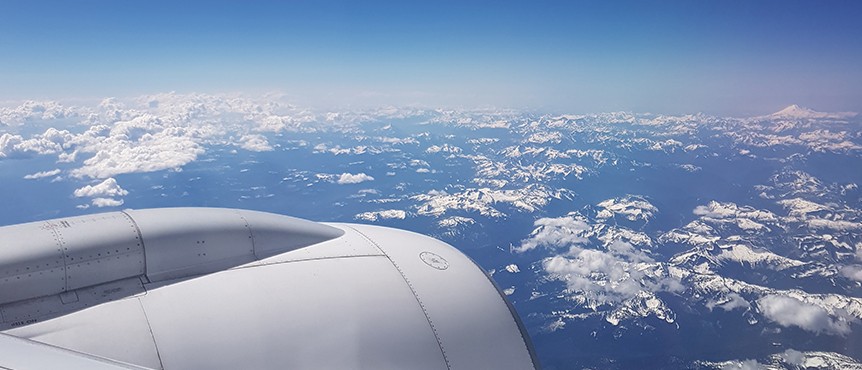 The global trend of the increased use of electronic components within aircraft manufacturing
is showing no signs of slowing down, with the global market of electric components for aircraft applications expected to reach US$10.9 billion in 2021, up from US$7.7billion in 2016 (Markets and Markets). Electronic components are predicted to be the highest growth sector within the c-class aerospace parts market between 2018 and 2023 (Stratview Research)
With aircraft production on the rise globally, and around 20% of the manufacturing cost of a new commercial aircraft generated by the electronics within it, there is a huge potential market and companies within the Auvergne-Rhône-Alpes region are clamoring to gain market share.
The region has the potential to excel in the aircraft electronics market because of its easy access to research and development facilities and its wealth and breadth of companies experienced in the electronic component field.
This increase in electric components has influenced the business strategies of companies across the value chain in the region. For companies looking to develop more advanced electrical components for aerospace applications, the infrastructure is there to support them in Auvergne-Rhône-Alpes. "The internet of things and Industry 4.0 are creating business opportunities for us because the level of hyper-connection between processes that is becoming increasingly common requires advanced electronics to relay information within computers and other networks," explained Xavier Benoit, VP technique, innovation and quality at Centum Adeneo.
Many companies with access to research and development facilities are earnestly turning their focus to developing high-end solutions for the aircraft electronics market. The aim is to create parts that are more technologically advanced, capable of intelligently gathering and utilizing data, and capable of communicating with one another - all while simultaneously being mindful of the golden rule of aircraft manufacturing: the lighter, the better. Manuel Collet and Régis Dufour at educational and research institute Ingénierie @ Lyon, said: "Smart materials and smart machinery will also be a big focus [in the near future]. The internet of things, in terms of aeronautics, remains a broad field to be explored and developed. Whereas in the past we would build patches to be connected to existing systems, now we need to integrate those systems directly into the materials we are using and we are working towards a method where the intelligence is all built directly into the systems themselves."
Companies that are already experienced in the electronic aircraft component space are focusing on the incremental innovation of their existing product lines in order to remain ahead of the curve. Alain Lacroix, sales director at Meggitt Sensorex, said: "We eventually want to replace all of our own products with more sophisticated products, mostly using MEMS sensors inside our systems. In this way, we can incorporate a smart sensing approach, allowing the end user to detect far more precise information with the sensors."
The company's approach is mindful of the barriers that currently exist when incorporating electronics into aircraft manufacturing, and is working to overcome them: "We will also be creating sensors that can withstand far higher temperatures, of up to 400 degrees celsius, which will open up possibilities for more applications."
Specific niches within the electronic aircraft parts market are particularly well-catered for within the Auvergne-Rhône-Alpes aerospace cluster, such as electronic actuators, which is one of the highest growth sectors within electronic components, with the compound annual growth rate for the global aircraft actuator market predicted to be 9.5% between 2018 and 2022 (Markets and Markets). The demand for actuators is not only growing but evolving in tandem with wider trends in the aerospace industry, and here too more technologically advanced solutions are increasingly required. Michael Niemaz, key account manager aerospace at MDP Maxon Motors France, said: "The shift towards electric aircraft has necessitated the replacement of hydraulic equipment with a mixture of hydraulic and electric, or fully electric actuators."
Old Problems: New Solutions
Embedded systems designed to solve some of air travel's oldest problems are being developed in the Auvergne-Rhône-Alpes region, as demonstrated by Frank Moreau, director of Michelin Aircraft Tires, speaking about the PresSense project that Michelin and Safran unveiled at the Le Bourget Paris Air Show last year, which has developed smart sensors for air craft wheels. "The project was conceived in response to a problem that has always faced the commercial aircraft industry. Aircraft tires increase in temperature during flight, but the tire pressure can only be accurately tested and measured when the tire is cold, and there are very strict rules on how long a tire must be left for after positioning and stopping at the gate. Typically, for commercial aircraft, it takes around three hours after stopping and positioning at the gate for the tire to cool to the required temperatures for pressure testing. We decided to develop a method of measuring temperature and pressure simultaneously, so that as soon as an aircraft lands we can determine the tire pressure, and then use algorithms to calculate exactly what the tire pressure will be when the wheel has cooled down. Electric sensors are embedded within the tire itself and will be able to measure far more data than previous methods of tire pressure testing," he said.
New Solutions: Future Challenges?
While the increase in demand for electrical parts, smart technology and embedded systems provides opportunities for companies to develop more innovative solutions, it also brings with it an entirely new set of security risks for the future of the industry. Karim Chibane, director of technology transfer at ESISAR Grenoble INP, stresses that his institution has identified and is working to tackle these risks: "Embedded systems and the internet of things bring so many advantages in terms of manufacturing and operational efficiency, but they also present an entirely new type of hacking and security risk, both for individual companies and government bodies. We anticipate a shortage of qualified talent in this area in the coming years as there are currently very few electrical engineers specialized in security, so we are investing in this area of training and technology transfer in order to fill the gap."
With companies in Auvergne-Rhône-Alpes at all stages of the value chain, from industry leaders such as Michelin, working in partnership with Safran, to more niche SMEs, developing the electronic components of tomorrow's aircrafts, it is safe to say that the region has earned its reputation as a hub for innovation. The region still faces challenges: it remains to be answered whether the qualified talent in the region will entirely meet demand, especially in promising high-technology fields such as electronics. Similarly, only time will tell whether the high cost of production in the region and the small volumes of niche products being produced will meet the cost-effective demand from the US and Asia.