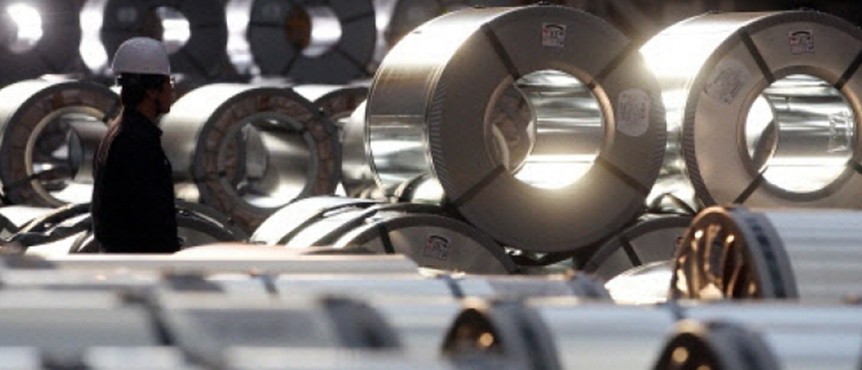 At 13:14 on September 19th, 2017, a 7.1 magnitude earthquake struck central Mexico, leading to the death of 370 people, as well as widespread property damage. In a harsh episode of coincidence, the earthquake occurred on the anniversary of the even deadlier 1985 earthquake. Twelve days prior to the central Mexico earthquake, another earthquake off the coast of Chiapas in southern Mexico, the second strongest in Mexico's history, left 98 dead.
Alongside acts of nature, Mexico has been hammered by political tremors in its neighbor to the north. The United States is driving a hard bargain in the NAFTA renegotiations, which have become a priority since President Trump came to office in January 2017. This has made investors wary and has led to gyrations in the Mexican peso, which in turn has negatively affected the performance of some Mexican steel companies.
Despite these rumblings, Mexico's economy is relatively resilient and prospects for its steel industry are positive. Since coming to power in late 2012, President Peña Nieto's administration has introduced a highly ambitious reform program, including liberalization of the energy sector and significant changes to financial markets, labor environment and education. Whilst the IMF expects growth of 1.9% in 2018 — and the Mexican government predicts between 2-3% — Mexico is performing better than its major Latin American peers, and its manufacturing industry, especially its automotive sector, is booming.
Reflecting its relatively strong performance, Mexico is expected to consume 27.6 million mt/y of steel in 2018, compared to 19.7 million mt/y in Brazil, its regional rival. "We have shown that we have macroeconomics under control. All recent finance ministers have had a clear vision about working with macroeconomics, which has given certainty to investors," remarked J. Rogelio Garza Garza, undersecretary of Industry and Commerce, Ministry of Economy of Mexico.
Investment Boost, High Value-Added Steel
Mexico produced 14.1 million mt from January to September 2017, representing 36% of Latin America's production, closely behind Brazil, which produced 16.6 million mt (42% of total output). Growth in production is positive: Mexico's steel production is set to grow 7.5% in 2017. In addition, ArcelorMittal, the world's largest steel producer, and Ternium, Latin America's leading flat steel producer, announced combined investments of US$2.1 billion in the country, which will further push up production.
Ternium plans to install a new state-of-the-art hot rolling mill with a production capacity of 3.7 million mt/y at its Pesquería industrial center in the northern state of Nuevo León. Its US$1.1 billion investment represents a significant technological upgrade to Mexico's steel capacity. The investment will expand Ternium's product range to include the most advanced steel grades and is aimed at replacing high value-added steel imports with domestic production. The new line will be operational by the second half of 2020, and the investment plan includes an option to further increase production capacity by an additional 1.1 million mt/y. "Mexico imports approximately 3.7 million mt/y of steel products. Following this trend, Ternium's investment will create an industrial pole in Pesquería, Nuevo León, and will replace approximately 2 million mt/y of products imported to Mexico," commented Juan Carlos Rodrigues Goncalves, president of the Association of Iron and Steel Technology (AIST)'s Mexico Chapter and plant manager at Ternium Mexico.
The new mill will integrate Ternium's upstream operations in Brazil, which it obtained after its acquisition of steel mill CSA from ThyssenKrupp for US$1.3 billion, along with its downstream operations in Mexico. It will allow Ternium to produce technologically advanced products for the demanding industries in Mexico, such as the automotive, home appliances, machinery, energy, and construction sectors.
Likewise, ArcelorMittal is making a US$1 billion investment over three years focused on building downstream capabilities, improving the competitiveness of its mining operations, modernizing its asset base, meeting expected increased domestic demand and realizing its production capacity of 5.3 million mt/y. The company will construct a new hot strip mill and enhance its proportion of high value-added products serving domestic, non-auto, and general industry customers. "The investments will help us to meet the demand requirements for higher value-added products we expect to see from domestic customers, which today are heavily dependent on imports," remarked Victor Cairo, CEO, ArcelorMittal Mexico.
The investment is a significant boost to the local economy of Lázaro Cárdenas in the southern state of Michoacán, the primary base for ArcelorMittal's steelmaking operations. Lázaro Cárdenas was named as one of Mexico's five Special Economic Zones (SEZs) in southern Mexico as part of a policy introduced by President Peña Nieto in September 2017 to attract infrastructure investments into poorer areas of the country.

The 'Big Four'
Steel production in Mexico is dominated by ArcelorMittal, Altos Hornos de México (AHMSA), Ternium and Deacero. ArcelorMittal is the leading supplier of steel products globally in all major markets, including automotive, construction, household appliances and packaging. It operates six facilities in Mexico, employs more than 6,000 people, and is the largest employer in Michoacán. Globally and within Mexico, ArcelorMittal is an integrated producer, operating the Las Truchas mine and the Consorcio Minero Benito Juarez Peña Colorada in a joint venture with Ternium, which holds the most important iron ore deposits in the country and supplies 30% of the steel industry's needs.
In Lázaro Cárdenas, ArcelorMittal produces slabs of different grades and has a capacity of 4 million mt/y of liquid steel from four electric arc furnaces. In the same location, it also produces long products, rod, and wire for the construction industry, and its blast furnace has the capacity to produce 2.4 million mt/y of steel. The company also produces rods of different grades at its two mills in the central city of Celaya, with billets sent for production by rail from Lázaro Cárdenas. To serve the country's mighty automotive sector, ArcelorMittal produces tailored blanks at its San Luis Potosí facility, as well as pipes at its two tube mills in Monterrey.
Ternium vies with AHMSA for being the largest producer of steel in Mexico, with production at around 5 million mt/y. It produces bars, billets, hot- and cold-rolled steel, coils, sheets, slabs, wire rod, sections, pipes and tubes, and galvanized steel. It is part of the Italian-Argentine conglomerate Techint Group and has facilities in Nuevo León, Puebla, Coahuila, Jalisco, Colima, Michoacán, and San Luis Potosí, as well as in the United States, Guatemala, Colombia, and Argentina. 66% of its total shipments originate from Mexico. In late 2016, the Central Eléctrica Pesquería, a 900 MW combined cycle gas power plant in Monterrey, was inaugurated. The plant is 48% owned by Ternium, 30% by Tecpetrol, and 22% by Tenaris. Ternium is able to purchase up to 78% of the power output, reflecting its desire to have more control over the natural resources it uses.
Unlike ArcelorMittal and Ternium, AHMSA's roots are in Mexico. It operates the largest integrated steel plant in the country, located in Monclova in the northern state of Coahuila, and owns iron ore and coal mines in close proximity to its plant. It is a national leader in hot-rolled coil, wide plate, cold-rolled coil, and tin-free steel. The company has experienced distinct peaks and troughs in its long history. It was forced to file for bankruptcy protection on US$1.86 billion of debt in 1999 but, in April 2016, successfully exited the bankruptcy process after a court approved exit proposal for AHMSA to repay US$1.7 billion over three years.
Indeed, things are looking up for AHMSA. It achieved record production of 4.65 million mt/y of crude steel in 2016, a result, the company said, of its 'Fenix Project,' which focused on maximizing installed capacity and generating a greater variety of value-added steels. With the company now out of the bankruptcy process, it has a more solid base to focus on strategic ventures, such as expanding its operations and strengthening its offerings in the automotive, energy, and specialized markets.
Privately owned and 100% Mexican manufacturer Deacero produces around 2.5 million mt/y of steel. It began in the 1950s as a producer of steel mesh fencing but became increasingly competitive in the production of mesh and other wire. Today, the company has its own scrap metal collection and processing infrastructure, steel mills, manufacturing plants, and distribution centers across Mexico and the United States. Recently, the company has been targeting the automotive sector. In September 2016, Deacero announced it was investing US$300 million to introduce new products for the automotive market. Then, in November 2017, it announced a joint venture with Japanese producer Summit Steel Corporation to establish a facility in Nuevo León that will supply wire rod for the automotive industry.
Moving Up a Gear
What is striking about the big four producers is that they are all making significant investments, in particular into producing higher value-added steel. "The iron and steel industry in Mexico has a big chance to grow. Despite every threat that shows up, like the ongoing renegotiation of NAFTA or the threat of foreign products, the Mexican industry has shown strength in its resources and capabilities and it has increased production and investments," remarked Juan Carlos Rodrigues.
There are signs competition is heating up in the flat products market, with the three main players in this segment, ArcelorMittal, AHMSA, and Ternium, all producing hot-rolled steel. "AHMSA has set up a steckel mill so that they can produce coils up to 96 inches wide. ArcelorMittal will produce coils up to 80 inches wide and Ternium, with its new investment, will produce 84 inch wide coils. This will fundamentally change the steel sector. It is going to be a blood battle," predicted Francisco Pontón, director general of service center Steel Warehouse Mexico.
Just as competition is becoming more intense and producers are moving up the value-chain, technology is becoming more sophisticated as companies adopt Industry 4.0. "Mexico is getting there but it is not ahead of the game. There are some Mexican steel companies that are quite advanced, such as Ternium, especially when it comes to digitalization," commented Leopoldo Cedillo, CEO of Metalsa, a structural component manufacturer for the automotive industry.
Nevertheless, Mexico is still not quite a technology leader, with most companies relying on expertise from abroad. As Stefano Maggiolino, president and CEO of Tenova HYL, leaders in direct reduction technology, put it: "Mexican companies are generally very good manufacturers but they use foreign technologies. There are very few Mexican companies that develop innovative technologies with commercial value abroad, and Tenova HYL is one of them."
The steel industry has traditionally been conservative regarding change and Mexico is no exception. However, as Mexico's steel industry moves to prioritizing quality over mass production, the adaptation of new technologies will only become more important. As Karl Purkarthofer, senior vice president of plant equipment provider Primetals Technologies remarked, "Industry 4.0 is the biggest technological challenge but also opportunity facing the steel industry."